SHARE:
SUNY Honors ESF Student Excellence
Leadership, academic achievements recognized

5/10/2012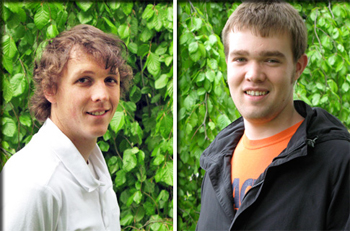 Two students from the SUNY College of Environmental Science and Forestry (ESF) were honored with the Chancellor's Award for Student Excellence during an April ceremony in Albany.
Colby Fisher of Endicott and David Andrews of Long Lake were presented with their awards during a ceremony at the Empire State Convention Center, where they received framed certificates and medallions, which may be worn at commencement.
Chancellor Award honorees excel both in academic achievement and in at least one of the following areas: leadership, athletics, community service, creative and performing arts or career achievement.
Fisher is an environmental resources engineering major. He is the founder of the SUNY-ESF Student Chapter of the New York Water Environment Association, treasurer for the Environmental Resources Engineering Club and a member of the Provost's Student Advisory Council. He has received numerous scholarships and honors including the ERE Faculty and Alumni Award, Chesapeake Research Consortium Scholarship and ESF Presidential Scholars Award. He is also a member of Alpha Xi Sigma Honor Society, ESF's honor society; and Alpha Phi Omega Community Service Fraternity.
Andrews is an aquatics and fisheries science major. He is president of the Woodsmens Team, ESF's timber sports team; and a member of the Provost's Student Advisory Council and the Intercollegiate Athletics Board. He was a Cranberry Lake Biological Station Undergraduate Research Fellow and a member of the Boy Scouts of America. He was on the Dean's or President's List every semester from 2008 to 2012.
Recent ESF News
News Archives
Communications & Marketing
SUNY-ESF
122 Bray Hall
1 Forestry Drive
Syracuse, NY 13210
315-470-6644