SHARE:
Getting "a Feel for the Business" at ESF's Career Fair
Students make connections with prospective employers

3/4/2009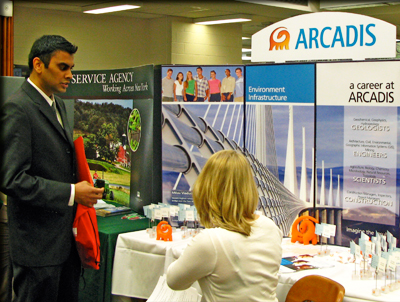 Dressed in suits and armed with resumes, ESF students met with representatives from the corporate, not-for-profit and government sectors during the College's annual Environmental Career Fair in February.
Recruiters were optimistic about the future of their various industries. "In our opinion, environmental engineering is the field to be in now," said Andrew Weiss of Stearns and Wheler GHD and an '04 graduate of ESF's environmental resources and forest engineering program.
"A lot of the repair for the economy is based on what we do as an industry," said Weiss, referring to the federal government's plans to stimulate the economy through improvements to infrastructure and the development of sustainable practices. Stearns and Wheler GHD is an environmental engineering firm with 12 regional offices, including one in Cazenovia.
"This is amazing," said Ankit Balaria, an environmental engineering student attending the career fair. "I've been applying online but coming here I can network with the employers."
Some businesses were looking to fill summer intern positions that could one day develop into jobs as project engineers or superintendents.
Said Audry Crosby of Barrett Paving, "We like to bring the students in so they get a feel for the business."
Many of the companies in attendance were represented by ESF alumni. MLA grads Erin Cole '04 and Todd Canterino,'02, manned the NYS Department of Transportation table. The DOT was looking for transportation construction inspectors, said Canterino.
In his position at the DOT, Canterino deals with issues involving the Americans with Disabilities Act, wetlands, and threatened endangered species that arise during DOT projects.
Jennifer Skellie of Arcadis, an environmental engineering firm, looks forward to the ESF career fair every year.
"ESF students have the best education, background and personalities and they fit right in at Arcadis," she said. As evidence of the success of ESF-educated engineers, Skellie said their Syracuse office employs between 25 and 30 ESF graduates.
The Environmental Career Fair is part of the Career Development Series sponsored by the Office of Student Life. Other installments included a Dress for Success fashion show, writing resumes and cover letters, Succeeding at the Career Fair and an etiquette dinner. John Turbeville, coordinator of experiential learning and the Academic Success Center, said all the events have been well attended.
"I think the topics we addressed are very timely," he said.
This year's fair was not only attended by ESF students, but also saw an increase in students from Syracuse University and people from the community at large, said Nancy Otts of the Office of Student Life and Experiential Learning.
Turbeville noted while people are focusing on the downturn in the economy, ESF has an opportunity to shine as the College's students are well prepared to fill the jobs that will play a role in the country's economic recovery.

Recent ESF News
News Archives
Communications & Marketing
SUNY-ESF
122 Bray Hall
1 Forestry Drive
Syracuse, NY 13210
315-470-6644