SHARE:
EFB Graduate Student Victorious in 'Elevator Pitch'
Goal: Deliver compelling research description in 60 seconds

5/25/2012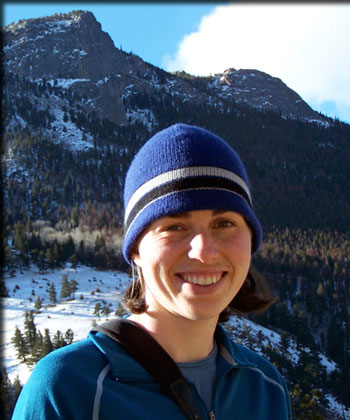 Jennifer Yantachka, a master's degree candidate in the Department of Environmental and Forest Biology, was awarded first place this spring in ESF's first Graduate Student Association Elevator Pitch Contest, which gave graduate students an opportunity to practice delivering a quick, impressive summary of their research to prospective employers or funding sources.
Sixteen graduate students accepted the challenge, pitching their research in front of their peers and members of the campus faculty and administration. The goal was to present a compelling description of their work in about 60 seconds, or roughly the amount of time they might have if they were sharing an elevator ride with an influential person in their field
The array of topics was indicative of the diversity of research on the ESF campus. Subjects included the next generation of bioplastics, mapping the spread of disease via primates, new ways to think about sustainability and efforts to restore the American chestnut tree.
The students were competing for a $500 prize to support their research.
Judges for the event were Associate Provost for Instruction and Dean of the Graduate School Scott Shannon, Assistant Professor Andrea Parker, Vice Provost for Research Neil Ringler and Visiting Professor Gary Lim.
Yantachka's research focuses on how soil calcium availability influences bird abundance and diversity along a calcium gradient in the Adirondacks. It is part of a larger effort that investigates the importance of calcium for forest biodiversity and ecosystem function.
Yantachka describes her research this way:
"The Adirondack Mountains of New York have experienced decades of acidic deposition, which has left soils deficient in important nutrients, especially calcium.
"For some songbird species, the amount of calcium in a clutch of eggs can exceed the entire quantity of calcium contained in the female's skeleton. Once hatched, nestlings also require high levels of dietary calcium for bone development.
"As a result, breeding songbirds have high dietary calcium requirements, which they meet by consuming calcium-rich plants and invertebrate prey. In addition, calcium availability in soils affects the plants that provide important habitat structure for songbirds. For example, trees such as sugar maple establish more often, grow more rapidly and are healthier in soils with higher calcium, compared to poorer soils."
The preliminary results have linked higher bird abundance to higher calcium sites. Some bird families, including flycatchers, nuthatches, and jays are sensitive to calcium availability, favoring higher calcium sites for establishing breeding territories. The next step is to learn more about the relative importance of vegetation and invertebrates as factors linking soil calcium and bird communities.
In a description of the project, Yantachka wrote: "Ultimately, we hope to aid conservation efforts in the Adirondacks by determining if forests with high calcium availability provide a biodiversity refuge that is resistant to the impacts of acid rain."
The event was sponsored and organized by the ESF Graduate Student Association Professional Development Committee. It was co-sponsored by the Office of Instruction and Graduate Studies.