SHARE:
ESF Provides a "Green Sweep" for St. Patrick's Parade
City of Syracuse street sweepers are fueled by biodiesel

3/19/2009
The SUNY College of Environmental Science and Forestry (ESF) donated 40 gallons of sustainable biodiesel fuel to the city of Syracuse for use during the annual St. Patrick's Parade.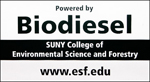 The biodiesel, made with used fryer oil as part of a broader ESF research project on the development of sustainable energy, was to be mixed with traditional diesel and used to fuel street sweepers. The sweepers work early to prepare the parade route for some 140 marching units and up to 75,000 spectators. The sweepers are busy again after the three-hour event.
The donation, initiated by ESF President Cornelius B. Murphy, Jr., who was the parade grand marshal in 2007, is part of the St. Patrick's Parade Committee's effort to make the annual event more sustainable. The number of vehicles in the lineup has been limited this year, participants were urged to construct floats from recyclable - or recycled material, and spectators were encouraged to use mass transit to travel to downtown Syracuse.
About 60 members of the ESF community marched in the parade behind the college's signature "I Bleed Green" banner. In keeping with the parade theme, "Tir na nOg - Land of Eternal Youth," the ESF contingent carried dozens of balloons decorated with an Earth motif and banners that read, "Keeping the earth eternally young, ESF gets it done."
The ESF marchers distributed 5,000 packets of non-invasive sunflower seeds to help welcome spring to Central New York.
Recent ESF News
News Archives
Communications & Marketing
SUNY-ESF
122 Bray Hall
1 Forestry Drive
Syracuse, NY 13210
315-470-6644