SHARE:
ESF Converts Turfgrass to Meadow, No-Mow Zone
Areas reduce maintenance, carbon emissions

7/17/2012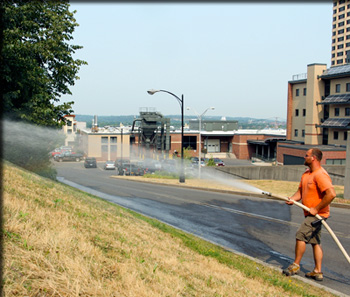 The SUNY College of Environmental Science and Forestry (ESF) is establishing the first no-mow zones on its main campus, part of the college's efforts to make its operations more sustainable and reduce its carbon emissions.
A meadow is being constructed along the southern edge of the campus, where ESF property borders Oakwood Cemetery behind Jahn and Baker laboratories. In addition, the turfgrass on a slope below the Old Greenhouses has been designated as an area that will no longer be mowed.
Development of the new green spaces originated from the Sustaining the Green Campus Master Plan, completed in April 2009.
Tim Toland, an associate professor in ESF's Department of Landscape Architecture, said the no-mow zones are advantageous in several ways.
"Aside from the issues of energy and emissions from lawn mowing, we wanted to reduce the grass areas to alleviate maintenance staff demands, monetary expenditures for fuel, oil, machinery, etc., and to begin to transform the campus landscape into a completely different aesthetic that focused on plants and plantings rather than on turfgrass and trees," Toland said.
He said the two areas selected for this project are hillsides that are typically difficult to maintain and hazardous to mow.
The meadow, which will take about three years to reach its full potential, has been planted with a northern wildflower mix containing fescue grass and several species of wildflowers. After its initial year of growth, the meadow will be cut down so that it will regrow the following year with more herbaceous plants.
The college Physical Plant staff implemented the changes in consultation with Toland and staff members at SUNY Cortland who have been establishing meadows and no-mow zones for a few years. The projects were initiated this year by ESF Vice President for Administration Joseph Rufo and are under the supervision of Supervisor of Grounds Howard Bruse. ESF's grounds crew is completing the installations.
Recent ESF News
News Archives
Communications & Marketing
SUNY-ESF
122 Bray Hall
1 Forestry Drive
Syracuse, NY 13210
315-470-6644