SHARE:
ESF Brings Hands-on Science to State Fair
College's exhibit a must-see for fairgoers

8/1/2012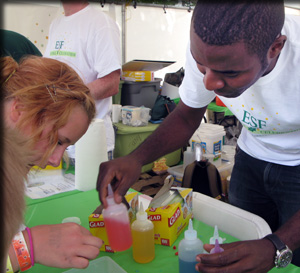 The SUNY College of Environmental Science and Forestry (ESF) once again returns to the New York State Fair with 12 fun-filled days of hands-on science
The year, ESF is offering the following programming:
Thursday, Aug. 23 and Friday, Aug. 24 - Where in the World is ESF?
The Office of Research Programs will highlight research ESF is conducting around the globe.
Saturday, Aug. 25 and Sunday, Aug. 26 - Environmental Engineering
The Department of Environmental Resources Engineering will have hands-on activities for fairgoers to get a feel for environmental engineering.
Monday, Aug. 27 - ESF Outreach
Green energy and other topics will take center stage with ESF's Office of Outreach.
Tuesday, Aug. 28 - From Molecules to Ecosystems
The Department of Environmental and Forest Biology will have information, exhibits, hands-on materials and answers to fair-goers' questions on interest areas including biotechnology, aquatic and fisheries science, entomology, and invasive plant species.
Wednesday, Aug. 29 - Make Your Own Paper
Make hand-made paper with ESF's Department of Bioprocess and Paper Engineering.
Thursday, Aug. 30 - The Wonders of Chemistry
Kids can learn the science behind liquid nitrogen ice cream or make slime with ESF's Department of Chemistry.
Friday, Aug. 31 - Forest for the Trees
Learn about trees commonly found in New York State and about the Department of Forest and Natural Resources Management at ESF. Tree seedlings will be available along with planting information. Activity booklets and crayons will be available for children.
Saturday, Sept. 1 through Monday, Sept. 3 - Environmentally Friendly Arts & Crafts - Join ESF for environmentally themed activities, including making pinecone birdfeeders and CD locker magnets.
ESF's exhibit is made possible through a cooperative agreement with New York State Office of Parks, Recreation and Historic Preservation.
Recent ESF News
News Archives
Communications & Marketing
SUNY-ESF
122 Bray Hall
1 Forestry Drive
Syracuse, NY 13210
315-470-6644