SHARE:
ESF Brings Science to Syracuse Youth
College community assists with Honeywell International's Summer Science Week

8/7/2012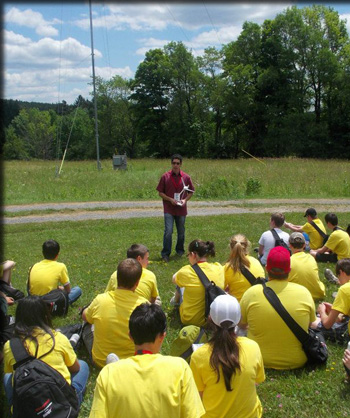 ESF students, faculty and alumni served as instructors at Honeywell International's Summer Science Week teaching local middle school students about an array of environmental topics.
Approximately 80 middle school students from the Syracuse area participated in the camp, held during July at the Milton J. Rubenstein Museum of Science and Technology (MOST) in downtown Syracuse.
Campers spent the week exploring the Onondaga Lake watershed and helping with hands-on experiments in areas dealing with hydrology, dendrology, geology, ornithology and entomology.
ESF students Kate Fuller, a senior, and Brigitte Moneymaker, a junior, along with Kate Hibbard (EFB '10) served as Science Week team leaders. Dr. Neal Abrams of the Department of Chemistry, gave a presentation on renewable wind energy usage at ESF's Heiberg Forest. The week also included a guided tour of the green initiatives taking place on ESF's main campus, including the construction of the Gateway Center and a research effort to restore the American elm tree.
After completing Science Week, students returned to the MOST the following Wednesday for Discovery Day when they received a flash drive containing the data collected from their experiments. The students used this data to create posters that were shared during an award ceremony in which the students received certificates for their participation in the program.
- By Brigitte Moneymaker, Environmental Science '14