SHARE:
Newest ESF Students Arrive on Campus
Freshman check into Centennial Hall, start orientation

8/22/2012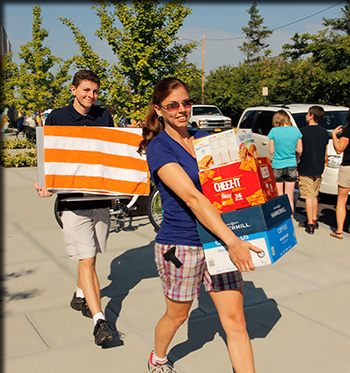 It was a warm, sunny day at Centennial Hall on the ESF campus and the traffic on Stadium Place and Standart Street had stopped because of the many vehicles waiting to unload the belongings of ESF's new freshman students. Wednesday marked the first day of the school year at ESF as 327 freshmen arrived on campus, nearly all of them moving into Centennial Hall, the residence hall that opened a year ago. Transfer students - 224 of them - will arrive this weekend. Classes begin Monday, Aug. 27.
A large number of students and faculty in lime green t-shirts formed the Mighty Movers, a group of volunteers who helped move the freshmen's possessions from cars into their new rooms. The group takes its name from ESF athletic teams, the Mighty Oaks. It was no small task to move more than 300 freshmen into their assigned rooms in five hours but, splitting into two-person teams and rolling big red bins into and out of the building, the Mighty Movers kept the process flowing.
Janine DeBaise, an instructor in the ESF Writing Program and second-year volunteer, said the best part about helping is "seeing the students interact with their families while making the transition to being independent."
Most freshmen will live in double-occupancy rooms, and a few will share triples.
The energy inside the dorm halls was pure excitement. Daniel Michael Dillon, a freshman natural resources management major from Maryland, said he was excited to meet his roommate in person. The two had been in contact through email since they found out they had been paired as roommates. Dillon said he expects they will get along well and he was eager to meet the other freshmen as well.
Dillon and other out-of-state students make up 21 percent of the incoming class, maintaining ESF's position as one of the most geographically diverse campuses in the SUNY system.
Throughout the rest of the week, the new students will participate in orientation events to help them build relationships with each other and learn about life at ESF. But for now, the freshmen have time to fill their closets, make their beds and take a sigh of relief after an eventful day.
- By Brianna Reed ES '13
Recent ESF News
News Archives
Communications & Marketing
SUNY-ESF
122 Bray Hall
1 Forestry Drive
Syracuse, NY 13210
315-470-6644