SHARE:
Bringing Back the Tree That Built America
ESF harvests a unique stand of white pine

9/19/2012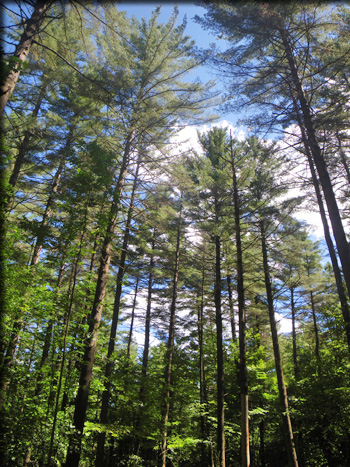 The SUNY College of Environmental Science and Forestry (ESF) is harvesting nearly 16 acres of very special white pine trees at the college's Huntington Wildlife Forest in Newcomb, N.Y. The harvest of the historic white pine plantation along Route 28N at the base of Goodnow Mountain will commence this week.
The harvest is part of a research and demonstration project funded under a McIntire-Stennis grant administered through a 50-year-old federal program that funds forestry research.
Why is this special? Many of the trees are 140 feet tall and 25 to 30 inches in diameter. White pine has significant historical importance in the United States. Not only did the British treasure the tall, straight stems for ship mast but nearly every structure in the New World was constructed with white pine. It is commonly known as the tree that built America.
"Every time I go in that stand of white pine I get chills because it's such a beautiful place. The trees are so tall and straight you might think you're in a Douglas-fir forest in the Pacific Northwest. When you walk in there you think you're in an old-growth stand of trees but they're not old growth - not even close. They're not even a hundred years old. It's because they're growing on such good soil," said Dr. Ren Germain, a professor in ESF's Department of Forest and Natural Resources Management.
The white pine plantation at Huntington was planted in 1916. The stand represents the most productive growing stock (of any species) in New York tate, supporting nearly 60,000 board feet per acre. By comparison, a typical northern hardwood stand in the state averages 3,000 to 5,000 board feet per acre.
Why harvest now? The trees are economically mature and the stand is ready to regenerate; without silvicultural investments, the stand will revert to hardwoods. The first objective of the resarch is to test the effectiveness of a modified shelterwood regeneration method and site preparation techniques for regenerating white pine on high quality sites.
Another aspect of the research is economic. Researchers will follow the harvested logs through the Ward Lumber sawmill in Jay, N.Y. , to monitor the yield and quality of the lumber. This will help determine the economic viability of investing in white pine trees on high quality sites where they would otherwise succumb to hardwood competition.
Ultimately, the researchers want to contribute to the restoration of white pine in New York state by demonstrating how well white pine can grow when planted and well maintained in high quality soil.
Germain said, "Believe it or not, we are in danger of losing white pine as a cover type in the state. Currently, it represents less than 5 percent of the state's forest cover while in the 1970s white pine represented about 10 percent of the state's forest cover."
Researchers are surveying salamanders, small mammals, and songbirds to assess biodiversity and inform future forestry practices.
There will be signs at Goodnow Mountain and along Route 28N explaining the white pine research project, plus a kiosk at ESF's Adirondack Interpretive Center in Newcomb to help people understand how a working landscape keeps the forest vibrant and healthy.
Recent ESF News
News Archives
Communications & Marketing
SUNY-ESF
122 Bray Hall
1 Forestry Drive
Syracuse, NY 13210
315-470-6644