SHARE:
Survey Asks ESF Community: How Do You Get to School?
Information about commuting helps track sustainability efforts

10/5/2012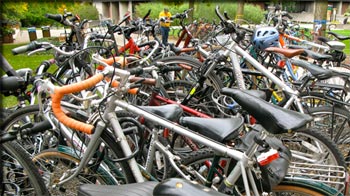 The ESF Office of Energy and Sustainability is gathering information about the commuting habits of ESF faculty, staff and students to help track the college's overall sustainability achievements.
In a survey distributed via email Oct. 3, members of the college community were asked questions about how they travel to campus and how often they make the trip. The purpose of the survey is to collect information about ESF's greenhouse gas emissions.
"The survey gathers information about the college's commute modal split, or the way people travel to the campus," said Andrea Webster, a graduate student who serves as the ESF sustainability coordinator. "This information will aid many programs and allow the Office of Energy and Sustainability to see how we can better promote sustainable commuting."
The questions delve into how far participants live from campus, how they travel to campus and if their habits change during the summer. The answers will be calculated using Clean Air Cool Planet's Campus Carbon Calculator for greenhouse gas accounting. Results will provide information about faculty and staff as one group, and undergraduate and graduate students as another.
ESF's sustainability efforts are guided by its commitment to be carbon neutral by 2015. The college's Climate Action Plan outlines a combination of renewable energy projects, sustainable construction, energy conservation and forestland management to erase ESF's carbon footprint. The plan was developed as part of ESF's participation in the American College & University Presidents' Climate Commitment.
ESF gauges its sustainability efforts through the Association for the Advancement of Sustainability in Higher Education's Sustainability Tracking, Assessment & Rating System (STARS), a framework used by colleges and universities to measure their sustainability performances. Last spring, ESF received a STARS Silver Rating for its sustainability efforts. Another assessment will be conducted in the spring of 2014; college leaders hope to achieve a Gold Rating in that assessment.
The Office of Energy and Sustainability has hired ESF graduate student Aayushi Patel to collect and analyze the responses to the survey. Participants have been asked to return the survey by Oct. 22 and results are expected by early November.
- By Brianna Reed ES '13
Recent ESF News
News Archives
Communications & Marketing
SUNY-ESF
122 Bray Hall
1 Forestry Drive
Syracuse, NY 13210
315-470-6644