SHARE:
Mighty Oaks Men Head to National Soccer Championships
6th-seeded ESF to face Concordia College Alabama

10/24/2012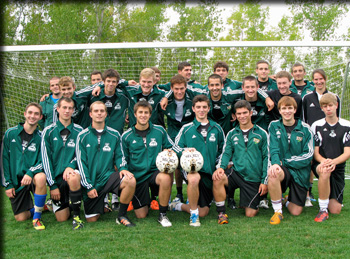 The ESF Mighty Oaks men's soccer team has earned a spot in the 2012 U.S. Collegiate Athletic Association National Championship Tournament in Asheville, N.C.
The Mighty Oaks, in their third season as a varsity intercollegiate team, are seeded sixth in the eight-team field and will face third-seeded Concordia College Alabama in their first game when play begins Nov.1. The championship game will be Nov. 3.
"We are extremely happy to be making ESF's first appearance in the USCAA's championship event. The team has trained very hard for this and is well prepared," said Coach Dan Ramin. "Qualifying for this event has been a team goal for the last three years."
Host Warren Wilson College will take on the University of Maine-Fort Kent, which earned the top seed in the tournament after finishing the regular season at 15-1. Yankee Conference men's champion NHTI, Concord's Community College of New Hampshire, will battle a one-loss Briarcliffe College team from Long Island in the four versus five match-up. West Virginia University Institute of Technology earned the two seed and will take on the winner of the Pennsylvania State University Athletic Conference tournament, scheduled for Oct. 27.
The men's bracket features three teams returning to Asheville for a second consecutive year: the University of Maine-Fort Kent, Briarcliffe College and Warren Wilson College.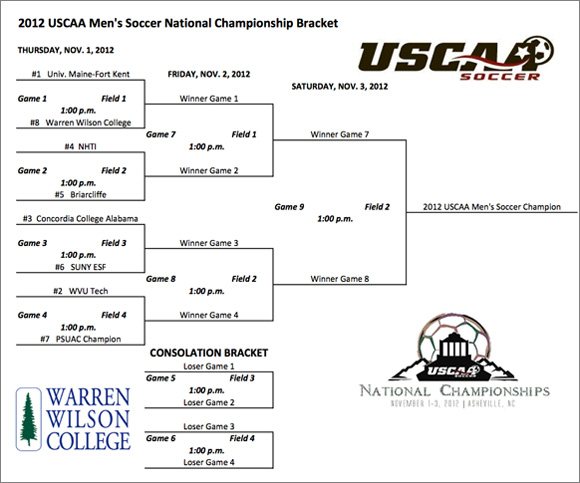 Recent ESF News
News Archives
Communications & Marketing
SUNY-ESF
122 Bray Hall
1 Forestry Drive
Syracuse, NY 13210
315-470-6644