SHARE:
ESF Quiz Bowl Teams Win Big
Teams nab first- and second-place honors in national competitions

11/2/2012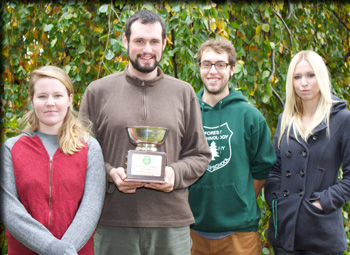 Two Quiz Bowl teams from the SUNY College of Environmental Science and Forestry (ESF) took honors at separate competitions recently.
A team of ESF students won the Society of American Foresters (SAF) Student Quiz Bowl at the SAF Convention in Spokane, Wash., Oct. 25. They came out on top in a field of 34 teams and defeated the two-time defending champions, Oregon State University (OSU), in the finals.
Earlier in October, ESF's Wildlife Society Quiz Bowl team took second place in the national competition in Portland, Ore.
This is the first time ESF had advanced past round eight in the SAF competition. The team comprised Kelly Nywening, a graduate student in the Department of Forest and Natural Resources Management (FNRM); Jeremy Newland a senior in FNRM's Forest Ecosystem Science program; and team captain Patrick Dolan and Lauren O'Connor, both seniors in FNRM.
"Our diversity helped us a lot," Dolan said. "There was always someone who knew enough about the subject that I was sure we could make an educated guess. We all have different backgrounds and we had different experiences before we came to ESF."
The competition pitted teams against each other in 15-question rounds until only ESF and OSU were left. The SAF Quiz Bowl trophy will be housed at ESF for the next year.
In the Wildlife Society competition, the ESF team dominated teams from University of Georgia, Purdue, and University of Wisconsin Madison. The team lost in the final round to Humboldt University.
Competing for ESF were senior Captain Dave Keiter, junior Peter Iacono, and senior Vincent Mangino, all wildlife science majors, and senior E.J. Botchert, a conservation biology major.
In describing their participation, the students reported, "We are thrilled to have taken second place in the national wildlife quiz bowl in Portland, Oregon! Coming from a school that is often overshadowed by the Carrier Dome next door, we are incredibly proud that we were able to represent New York state and SUNY-ESF so well at the national conference of The Wildlife Society. "
Recent ESF News
News Archives
Communications & Marketing
SUNY-ESF
122 Bray Hall
1 Forestry Drive
Syracuse, NY 13210
315-470-6644