SHARE:
Mighty Oaks Men Run to Second National Championship
Women finish third in Lake Placid meet

11/9/2012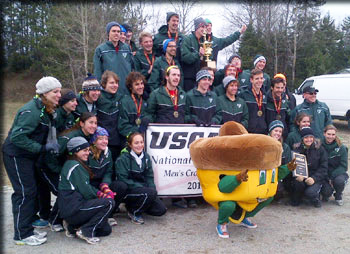 The ESF Mighty Oaks men's cross-country team defended its national title Friday, Nov. 9, finishing first in the U.S. Collegiate Athletic Association Cross-Country National Championships in Lake Placid.
The women's team finished third in a very competitive field despite the absence of their strongest runner who was sidelined by a knee injury.
The competition featured 29 teams in both the men's and women's races on a cold, sunny day in the Adirondacks.
The ESF men, led by sophomore Timmy Callahan who finished second overall with a time of 27:45 on the 8K course, took seven of the first 15 places. Dine College of Arizona finished second.
"The entire 18-man squad was ready to defend their title and knew that in doing so it would take another huge effort," said Coach John View.
Behind Callahan were Taylor Yerrick, sixth, 28:21; Stephen Slonosky, seventh, 28:27; Brian Busby, 11th, 28:37; Jon Cleveland, 12th, 28:53; Jeremy Driscoll, 14th, 29:01; Jacob Wolfgong, 15th, 29:06; Andrew Gritzmacher, 16th, 29:06; Malcolm Moncheur, 20th, 29:14; Peter LeDuc, 22nd, 29:23; Kai Crannel 26th, 29:34; Nick Grieco, 29th, 29:49; Ethan Washburn, 30th, 29:52; Collin Bartholemew 49th, 30:34; Matt DeLuca, 53rd, 30:53; Caleb Rudge 65th, 31:25; Nathan Sleight, 103rd, 33:44; and Matt Allen, 121st, 34:42.
View said the Mighty Oaks women ran their most courageous race of the season.
"They did not have their Number 1 runner Cambria Ziemer able to go. Cambria has been hampered with a knee injury and it was decided after warmups that it was in her best interest to not race," View said. "Knowing they were without Cambria, the remaining squad members went out and ran their hearts out."
Finishing first for the ESF women in the 6K race was Kristen Campbell in 14th place with a time of 25:48.
Also running for ESF were Danielle Kaveney 15th, 25:49; Emily Martin, 27th, 26:21; Casey Cole, 31st, 26:35; Danielle Zgardinski, 34th, 26:41; Jenny Frank, 44th, 27:22; Radka Yang, 46th, 27:23; Cara Keogh, 53rd, 27:35; Liz Bourguet, 59th, 28:04; and Kristin Pasquino 92nd, 30:32.
First place went to Southern Virginia, repeating as champions in the women's division. Second place went to St. Mary of the Woods (Indiana).
Recent ESF News
News Archives
Communications & Marketing
SUNY-ESF
122 Bray Hall
1 Forestry Drive
Syracuse, NY 13210
315-470-6644