SHARE:
Student Eco-Reps Teach Peers about Sustainable Living
Trip to CNY Regional Market illustrates benefits of shopping locally

11/19/2012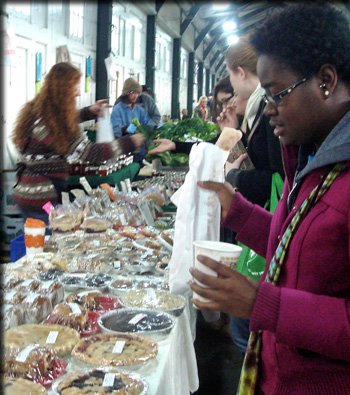 More than 20 ESF students took a trip to the Central New York Regional Market as part of a new Eco-Representative Program that uses peer-to-peer interaction to educate students about sustainability.
Called Eco-Reps for short, the program focuses on raising awareness about sustainability issues among students who live in Centennial Hall, ESF's first residence hall, and educating them about sustainable practices. Nine students who live in the building were selected after an application process to be the Eco-Reps who help educate their peers.
The Eco-Reps were selected by a panel consisting of Liz Young, the residence life coordinator in Centennial Hall; Laura Crandall, director of student involvement and leadership; and Andrea Webster, sustainability coordinator. Young and Crandall continue to assist and provide resources along with Webster, who is the director of the program. The Office of Energy and Sustainability provided a budget of $1,000 for the Eco-Reps to fund the programs throughout the academic year.
The Eco-Reps plan events and activities either on their assigned floors or collaboratively for residents of all floors to participate in. The Eco-Reps decided to take a group of students to the regional market to promote the importance of buying locally.
Another program already held this semester was organized by Jonathan Rice, a junior environmental resource engineer and Eco-Rep, who put together a workshop to educate residents on his floor how to use their thermostat to conserve energy.
Rice said, "It's exciting to be on the ground floor of the program and be able to shape the new program into what it will be for the next few years."
Webster was impressed by the turnout for the regional market trip. "I think it's awesome the Eco-reps wanted to introduce the students to the market and the idea of buying local," she said. ""It gives them a unique chance to chat with the farmers and engage in their local community."
Although the program operates only in Centennial Hall this academic year, Webster hopes to expand the program campus wide. "The students are attending the events and the program is off to a good start and I would like to see it grow and develop from here," she said.
At the end of the trip on a mild Saturday, students were happily boarding the bus with their reusable shopping bags full of market finds. Todd Pattison, a senior construction management major living in Centennial Hall was one of the many students attending the trip who had never been to the CNY Regional Market before. Pattison said, "I think the Eco-Reps program has been successful so far, I am glad they offered this event because I really enjoyed the market and will come back here."
- By Brianna Reed ES '13
Recent ESF News
News Archives
Communications & Marketing
SUNY-ESF
122 Bray Hall
1 Forestry Drive
Syracuse, NY 13210
315-470-6644