SHARE:
ESF Professor Joins Anti-Rat Effort in Galapagos
Dr. James Gibbs organizes imaging work as team readies poison-bait drop

11/20/2012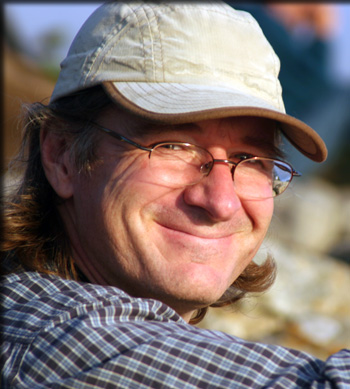 A SUNY College of Environmental Science and Forestry (ESF) faculty member is among a team of conservationists dropping poison bait this month on several of the Galapagos Islands in the hopes of eradicating 180 million invasive rats that live there.
According to the Galapagos Conservancy, black and brown rats introduced in the 17th or 18th centuries by pirates or whalers are among the most serious threats to Galapagos biodiversity. They prey on the eggs and hatchlings of birds and reptiles.
The bait is expected to be dropped by helicopter before the end of November on the islands of Pinzon and Plaza Sur.
Dr. James Gibbs, a conservation biologist and director of the Roosevelt Wild Life Station at ESF, is working with colleagues Sean Burnett and Greg Carney of Wildlife Intel to obtain extremely high-resolution imagery of the islands. The imagery will enable the team to monitor ecosystem response to the eradication efforts.
The bait is specially formulated to attract only rats and steps have been taken to protect other wildlife. The eradication program has been under development for many years and is being undertaken by the Galapagos National Park Service in collaboration with Island Conservation. The imaging work is funded by the Galapagos Conservancy.
"The imaging is a first for Galapagos," Gibbs said in an email from Ecuador. "If we can make this work several conservation groups want to start using it for monitoring ecological change due to management. We might end up with imagery from which individual cactus pads, tortoises etc. can be counted."
The Galapagos Archipelago is treasured for its biodiversity. It was the site of much of Charles Darwin's work.
Gibbs has long been involved in work involving Galapagos tortoises. In the last two years, he led an ESF team that helped establish a population of giant tortoises on the island of Pinta in the hopes the animals will help restore the badly damaged ecosystem. Gibbs was elected as a member of the Charles Darwin Foundation's General Assembly and is preparing for activities under a recent fellowship from the Ecuadorian government's science directorate (SENESCYT) to serve as a "Viejo Sabio" for one year to build capacity for scientific investigation within the Galapagos National Park Service.
Recent ESF News
News Archives
Communications & Marketing
SUNY-ESF
122 Bray Hall
1 Forestry Drive
Syracuse, NY 13210
315-470-6644