SHARE:
ESF Celebrates December Convocation
Three alumni to be honored with during ceremony

11/27/2012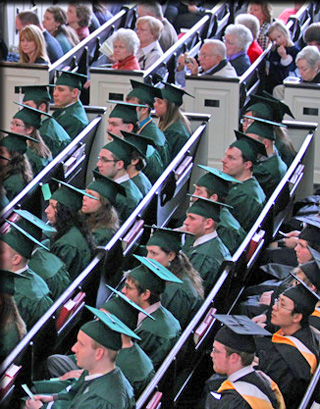 The SUNY College of Environmental Science and Forestry (ESF) will award 179 degrees, including 57 master's degrees and 12 Doctors of Philosophy, during the 2012 December Convocation 1 p.m. Dec. 7 at Hendricks Chapel.
Three alumni will be honored during convocation.
Douglas G. Dellmore '68 will receive the Lifetime Achievement Award bestowed by the ESF Alumni Association. Richard J. Ahearn '74, and Robert W. Hargrove '78 will receive the Graduate of Distinction - Notable Achievement awards.
Dellmore, a wood products engineering major, created numerous companies focused on producing environmentally friendly products and services. He established a company based on the technology and business of making and supporting seawater desalination plants for use on offshore drilling and production platforms.
He holds a patent for the combination of coconut pith and sphagnum peat moss for use as plant-growing media. Developed in collaboration with the Scotts Company the process is used by the Sungro Companies in professional potting soils. Scotts uses the material in products such as Scotts Miracle Gro Moisture Control Potting Soil.
As president of Ahearn-Holtzman Inc., a construction company located in Port Chester, N.Y., Ahearn used his wood products engineering degree to open the family-owned business and has spent the last four decades serving an impressive range of clients. He is a long-time supporter of the Department of Sustainable Construction Management and Engineering.
Hargrove is a driving force in protecting the environment. He received a Bachelor of Science degree in resources management and began his career with the U.S. Environmental Protection Agency's (EPA) Region 2 Office as an environmental reviewer and project manager for the Wastewater Treatment Construction Grants Program in the Environmental Impacts Branch. He was promoted numerous times and, in 2004, Hargrove accepted the position of director of the National Environmental Protection Act (NEPA) Compliance Division in EPA headquarters. In this capacity, he is responsible for overseeing the implementation of the EPA's NEPA Compliance Program and the review of other agencies' environmental impact statements in relation to the NEPA and the Clean Air Act.
Recent ESF News
News Archives
Communications & Marketing
SUNY-ESF
122 Bray Hall
1 Forestry Drive
Syracuse, NY 13210
315-470-6644