SHARE:
Student's Bike Rack Project Brings Artistic Touch to Campus
Student Sustainability Fund supports student's project

11/30/2012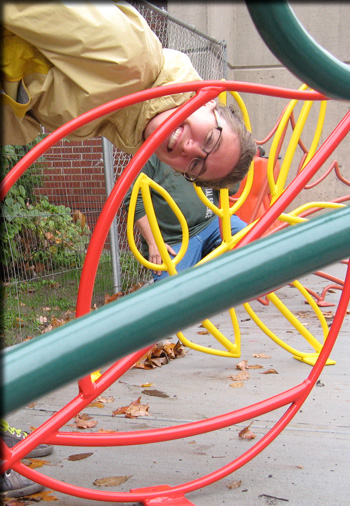 An artistic bike rack sporting a leaf design was installed on campus this fall, a project initiated by a graduate student and supported by funding from the ESF Student Sustainability Fund.
The multicolored bike rack, installed between the Gateway Center and Moon Library, was the result of efforts by Meghan Holtan, an environmental science graduate student. She undertook the project in part because of her prior affiliation with the Syracuse Public Arts Task Force (PATF), which runs a "Rack Pack" project to better equip neighborhoods with bike infrastructure while also enhancing the streetscape.
Believing the Rack Pack project might be a good fit for a partnership with ESF, Holtan applied for support from the Student Sustainability Fund administered by ESF's Green Campus Initiative student organization. She received a $2,000 grant and began collaborating with the PATF which operates under the umbrella of 40 Below, a nonprofit organization of local young professionals who support local revitalization.
Holtan worked with members of ESF Physical Plant and Timothy Toland, an associate professor in the ESF Department of Landscape Architecture, to find the right location for the bike rack.
Holtan received some 20 designs from other graduate students and contributors to the PATF. Holtan and sculptor Brendan Rose, a sculptural architect and Syracuse's first public artist in residence, narrowed down the submissions and presented them to Toland, the physical plant representatives and interested faculty members. The group decided on the leaf design, and Holtan and Rose refined it to fit the budget and space allocations. Rose crafted the rack from steel that was galvanized and powder coated to ensure longevity.
Similar bike racks have been installed on Westcott Street and will be installed in front of the Museum of Science and Technology downtown.
Holtan said the project seemed like a good fit for ESF. She was impressed by the level of collaboration among the people involved in making it a reality. "It was really wonderful how everyone was so flexible and welcoming to the unique idea," she said.
ESF student Ryan Smith, a junior environmental science major, praised the mix of art and sustainability.
"I like how they incorporated an artistic view while encouraging green transportation," he said. "Regular bike racks are not much to look at especially when they are empty so I'm happy this will be a new addition to the campus."
Ross Mazur, project manager for the Student Sustainability Fund, said the fund is valuable because it provides an opportunity for students to make the campus their own. "It enables them to design and implement projects which would otherwise be economically restrictive," he said.
Some of the other projects supported by the fund include edible mushroom cultivation, the planting of an orchard for the GCI garden, construction of a fence to surround the GCI garden and painting of the lids of the recycling bins on campus.
- By Brianna Reed ES '13