SHARE:
LA Students Study Agrotourism in Puerto Rico
Fourth-year students get experience working abroad

11/30/2012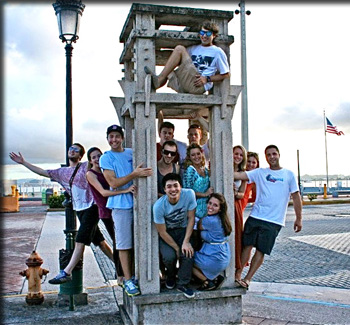 Forty-two ESF fourth-year landscape architecture (LA) students spent a week in Puerto Rico this fall, working on a project to promote agrotourism.
The fourth-year students made the trip as part of a semester-long project in which they are developing an agrotourism route along Route 123, a road in the southern part of Puerto Rico, where the city of Ponce and two small villages are located.
The ESF students are working in partnership with the Pontifical Catholic University of Puerto Rico (PUCPR) School of Architecture. PUCPR architecture students received a grant from the U.S. Department of Housing and Urban Development Rural Innovation Fund to research a way to revitalize the region. They asked the ESF LA students to help them complete research and plan an agrotourism route that could help the economy and support the tourism sector. The students' findings will be submitted to the Pathstone Corporation, a collaborator on the project, in the hopes that both short- and long-term plans will be funded.
Isabel Fernandez, an ESF assistant professor of LA, grew up in Puerto Rico and has established a relationship with the PUCPR School of Architecture professors. With the help of Tony Miller and Emanuel Carter, her ESF co-teachers for the fourth-year studio, she organized a class trip to Puerto Rico so her class could experience working on a project abroad. Fernandez said the trip would not have been possible without the support of Richard Hawks, LA department chair. Hawks helped find funding for the trip because he believes in the importance of the students receiving an interdisciplinary and cross-cultural experience.
In addition to gaining cross-cultural experience abroad, Fernandez wanted her students to have a chance to work with people in other fields, mainly architects. She said it was her goal to "get the students out of their comfort zone, so that their creativity would be refreshed and injected with inspiration."
A site visit is typical of every LA project so students learn more about the environment and talk with the stakeholders. Kristy Pedersen, a fourth-year LA student, said, "We needed to go and visit the site because there are just some things you can't learn from Google maps and research."
Sara Bonacquist, also a fourth-year LA student, said, "This trip really brought our classroom learning to a real-life situation which helped me understand what site visits and collaborating with others will be like after graduating."
The ESF students are studying the city of Ponce, and the villages of Castañer and Adjuntas. Also along Route 123 are six different ecosystems. The goal is to attract ecotourists and people who are interested in getting to know local communities and their food, crafts and ecosystems.
The PUCPR students wish to make the road a tourist attraction similar to a wine tour but instead showcase the local coffee plantations, which are an important part of the region's economy. Drawing people to support the local businesses is the goal of agrotourism.
The PUCPR students visited Syracuse and the Finger Lakes early in October to visit the area's wineries and gain an understanding of what makes an agrotourism route successful. While in Syracuse, they made a presentation to their ESF counterparts about their culture and the issues that need to be researched and solved in southern Puerto Rico.
"The PUCPR architecture students are gaining a better understanding on landscape architecture while our LA students are gaining a better understanding of civil architecture," Fernandez said.
Fernandez says the ESF students gained more than the ability to collaborate with other cultures; they created lasting friendships with the PUCPR students. Pedersen said, "Interacting with the Puerto Rican architecture students was my favorite part of the project because they taught us a lot about their rich culture and we became close friends as well as colleagues." And Bonacquist noted, "It also created a new unity within the studio class."
Fernandez said she would like to continue taking the fourth-year studio students on a short trip abroad to learn about working with different cultures while also learning more about their own strengths and weaknesses.
"This trip has helped me be better prepared for my semester abroad next year," said Pedersen, referring to the Off-Campus Program for fifth-year LA students. "And it taught me how to conduct research and collaborate in foreign places."
-By Brianna Reed ES '13
Recent ESF News
News Archives
Communications & Marketing
SUNY-ESF
122 Bray Hall
1 Forestry Drive
Syracuse, NY 13210
315-470-6644