SHARE:
Gateway Center Café to Open March 18
Campus community invited to suggest names for new facility

12/4/2012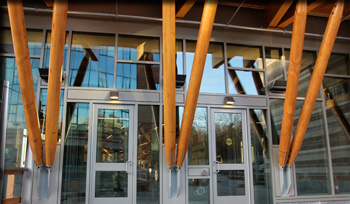 SUNY College of Environmental Science and Forestry (ESF) students, faculty and staff have an opportunity to help name the new cafe that will open in the Gateway Center next semester.
The cafe, which will open March 18, will be operated by the Morrisville Auxiliary Corporation (MAC), a non-profit organization that runs services such as dining and residence halls at SUNY Morrisville.
MAC staff will be on campus early in the spring semester to begin hiring student workers. A food service advisory committee will be established to provide input on menu items, sustainability considerations and other decisions. Hours of operation will be announced soon.
The Gallery snack bar located in Marshall Hall will continue to operate until the end of the spring 2013 semester and will close May 9. ESF students may continue to use SUpercard funds at the Gallery or at other dining locations on the SU campus during the spring semester.
The College is looking for a name that fits ESF's image as an environmental college and provides the basis for promoting the cafe in a fun way. Creative ideas for naming the cafe should be submitted in an email message addressed to Robin Perkins at clperkins@esf.edu by Friday, Dec. 14. Staff members from the ESF Communications Office and MAC will conduct an online poll over the winter break to select the winning name before the start of the spring semester.
The MAC is Morrisville's version of an auxiliary service corporation (ASC), a non-profit organization that most SUNY campuses use to facilitate their operation of campus food services, bookstores, residence halls, and other auxiliary services to benefit students, faculty and staff. ESF has not established an ASC of its own, but SUNY regulations allow existing ASCs to offer services beyond their home campuses. The MAC operates a variety of auxiliary services at SUNY Morrisville, including five food service locations. It will operate the Gateway Center cafe through a new ESF Auxiliary Services division.
The ESF administration discussed potential operation of the new cafe with several different food service organizations, including the SUNY Oswego ASC, Syracuse University Dining Services and companies such as Sodexo, Inc., over a period of several months, before deciding that the MAC partnership offered the most advantages.
Recent ESF News
News Archives
Communications & Marketing
SUNY-ESF
122 Bray Hall
1 Forestry Drive
Syracuse, NY 13210
315-470-6644