SHARE:
SUNY-ESF Offers Adirondack Residential Semester
'Understanding the Park' to begin in fall 2013

1/9/2013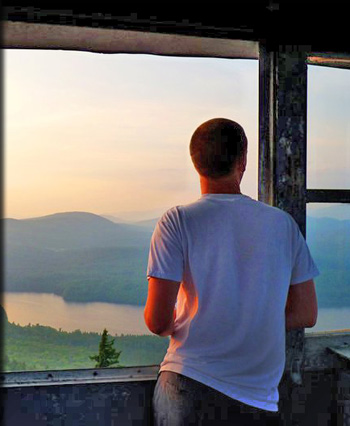 College students with an interest in the sustainability of human and natural communities can spend a full semester living and studying in the heart of the 6-million-acre Adirondack Park, a global model for an experiment in conservation.
A 15-credit residential semester called "Understanding the Park" will be offered in the fall of 2013 by the SUNY College of Environmental Science and Forestry (ESF). Students will live and learn at ESF's Newcomb Campus on the 15,000-acre Huntington Wildlife Forest.
The residential semester will be a first for ESF at the Newcomb Campus.
"This is a powerful academic semester that will be a unique experience for students," said Paul Hai, program coordinator for ESF's Northern Forest Institute in Newcomb, and one of the semester instructors. "The mix of disciplines - natural science, social science, ethics, sustainability - will give students a rich, multifaceted perspective on natural resources, conservation, ecology and economics in the Adirondacks, lessons and insight applicable far beyond the park."
Also on the faculty this fall is Dr. Ross S. Whaley, former chairman of the Adirondack Park Agency and former president of ESF. He is the only person to have held both positions, giving him a unique perspective on the nexus of science and policy. Joining Whaley and Hai in teaching are Marianne Patinelli-Dubay, an environmental philosopher with the NFI, and Stacy McNulty, an ecologist and associate director of ESF's Adirondack Ecological Center, also located at the Newcomb campus.
The semester is designed for undergraduates and open to sophomores, juniors and seniors, with preference given to juniors and seniors. Students from other colleges within the SUNY system or private colleges and universities are invited to apply.
The residential semester includes coursework in field science, environmental philosophy, social sciences and human dimensions. It also includes regular field trips to scientific research sites, historic sites, cultural sites and institutions, and a broad spectrum of agency, municipal, and public meetings. The culminating project will be an independent study drawing on the semester's breadth of interdisciplinary experiences to consider the question, "What is the Adirondack Park?"
Students will take the following courses:
' Diverse Perspectives on a Common Landscape: Experiencing the Adirondack Park
' Environmental Ethics and Culture: Perspectives on the Adirondack Park
' Research Methods: Application to the Adirondack Ecosystem
' Sustainable Development: An Adirondack Park Case Study
' Using Past Experience to Inform Future Management: Synthesizing the Adirondack Park
Students participating in this semester will benefit from ESF's more than 80 years of continuous research in the Adirondacks as well as interaction with faculty and staff of the nation's oldest and largest stand-alone institution focused on the study and understanding of our environment.
Students interested in registering for or obtaining further information about the Adirondack residential semester should contact Hai at pbhai@esf.edu or 518-582-4551, ext. 104.
Recent ESF News
News Archives
Communications & Marketing
SUNY-ESF
122 Bray Hall
1 Forestry Drive
Syracuse, NY 13210
315-470-6644