SHARE:
ESF's Avian Fuel Honored at Duck Race
Solar-powered fuel cell duck best represents company's mission

6/3/2009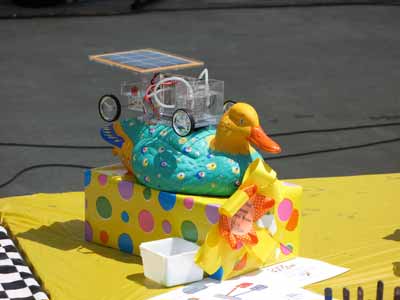 SYRACUSE - ESF's entry in the Community Wide Dialogue's Duck Race to End Racism received special honors during Saturday's race.
The ESF duck, Avian Fuel, was honored with Duck Best Representing the Company's Mission. Avian Fuel sported a solar-powered fuel cell car on his back. This is the third year ESF has received this award. It is the sixth year the ESF duck has not won.
Avian Fuel was engineered by Mark Storrings of ESF's Department of Environmental Resources and Forest Engineering. Storrings also designed the 2006 Sol-R-Duck, with its solar-powered quacking, and Sun-of-Sol-R-Duck in 2008 that sported a solar-powered LED screen, that scrolled the message, "SUNY-ESF … Improve Your World … End Racism." Both ducks received honors for "best representing the company's work."
This year's duck received its festive bubble motif design from Wendy Osborne, graphic designer and artist-in-residence in the Office of Communications. She took home "most finely crafted duck" honors for Envira Duck, the college's entry in the 2007 duck race.
The Duck Race to End Racism is an annual event that brings together all parts of the community for an afternoon of fun. Prizes are awarded to the sponsor of the duck that crosses the finish line first. In addition to the main attraction of the race, the day will include entertainment, information booths for community organizations, and free ice cream.
Recent ESF News
News Archives
Communications & Marketing
SUNY-ESF
122 Bray Hall
1 Forestry Drive
Syracuse, NY 13210
315-470-6644