SHARE:
ESF Finalist for Climate Leadership Award
Second Nature recognizes 20 colleges, universities

1/24/2013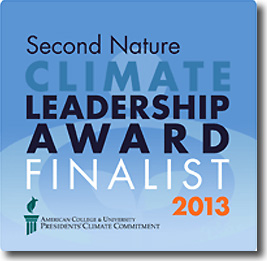 The SUNY College of Environmental Science and Forestry (ESF) is a finalist in the Second Nature 2013 Climate Leadership Awards, an annual competition among U.S. colleges and universities that are signatories of the American College & University Presidents' Climate Commitment (ACUPCC).
The awards program is sponsored by Second Nature, a national nonprofit that seeks to create a sustainable society by transforming higher education, and PlanetForward, a media company that publishes news, opinion, and insight about energy, climate and sustainability.
"ESF is pleased with the recognition from Second Nature and PlanetForward," said ESF President Cornelius B. Murphy, Jr. "Our efforts to make our campus more sustainable are driven, to a large degree, by our students, who are passionate about the environment and who have told us, 'If you're going to teach green, you better be green.' We say our students 'bleed green' and our goal is for the college to reflect their commitment to the environment."
ESF is the only SUNY institution on the list of finalists.
"If the destabilizing economic, political, and environmental events and natural disasters of the last two or three years have told us anything, it is that business as usual will not work," said David Hales, president of Second Nature. "We need new and better ways of meeting human needs, and this year's finalists are leading the way in creating - and teaching - sustainable solutions to the major economic and social issues of our time."
This year, the award program's fourth, drew the largest and most competitive pool of nominations to date. Second Nature will partner with PlanetForward, a web-to-television initiative that documents and shares energy, climate, and sustainability advances, on a public voting competition featuring the finalists' climate leadership and campus innovations during Earth Month (April 2013).
"The caliber of this year's nominations is unparalleled," said ACUPCC Director Ashka Naik. "The depth and breadth of climate leadership and sustainability education programs demonstrated by these finalists is a reflection of their deep commitment to truly innovative solutions for a sustainable future."
ESF was selected as a finalist based on a nomination that detailed the college's commitment to achieving carbon neutrality by 2015, its incorporation of sustainability into the accreditation process and technological innovation, particularly in the construction of the new Gateway Center. The Gateway Center features a biomass combined-heat-and-power plant that will save 65,000 gigajoules of fossil fuel and reduce CO2 emissions by 2,700 tons annually. It will heat five campus buildings and provide more than 20 percent of the campus' electrical needs. In addition, ESF has expanded its academic offerings to include a Sustainable Energy Management major and Renewable Energy minor, while outside the classroom, students are encouraged to take initiative in launching sustainability projects. ESF also cultivates relationships with industry and community partners to improve sustainability on and off campus.
Recent ESF News
News Archives
Communications & Marketing
SUNY-ESF
122 Bray Hall
1 Forestry Drive
Syracuse, NY 13210
315-470-6644