SHARE:
ESF Alumnus, Dr. Jean Fréchet, Honored With Japan Prize
Graduate recognized for work in field of materials and production

1/30/2013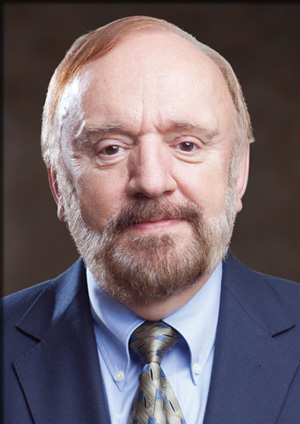 Dr. Jean M.J. Frechet, an alumnus of the SUNY College of Environmental Science and Forestry (ESF), was a recipient of the 2013 Japan Prize, one of the most prestigious international awards in science and technology.
Frechet was honored along with C. Grant Willson for their outstanding achievement in the "development of chemically amplified resist polymer materials for innovative semiconductor manufacturing processes." The Foundation annually awards the Japan Prize, now in its 29th year, to scientists and researchers in two categories who, regardless of nationality, made substantial contributions to their field as well as peace and prosperity of mankind.
Frechet (M.S. '69, Ph.D., '71) studied chemistry at ESF with Dr. Conrad Schuerch, renowned chemistry professor who was known for his work in polymer, carbohydrate and wood chemistry. Frechet, who also holds a doctorate from Syracuse University, is vice-president for research at King Abdullah University of Science and Technology in Saudi Arabia. He has served as an advisor to several global companies, including Unilever, IBM Corporation, Xerox and DuPont.
Frechet delivered his acceptance speech with advice for young scientists: "In order to solve technological problems, it is often good to gather a team of people with different backgrounds: some who will be able to draw from their experience and intimate knowledge of a technology, and others with a different background and perhaps little experience, but who may be able to suggest new or unusual ideas. I have been very fortunate to work closely with Grant Willson, a man with a most creative mind, outstanding leadership qualities and a wonderful personality."
The Japan Prize aims to reward those who have made a substantial contribution to the advancement of science and technology as well as peace and prosperity of mankind. Award winners receive a certificate of recognition and a commemorative gold medal at an award ceremony on April 24, 2013 during Japan Prize Week in Tokyo. A cash award of 50 million Japanese yen (approximately U.S. $560,000) will also be given to each field.
The Japan Prize in Biological Production and Biological Environment went to John Frederick Grassle of the United States for his contribution to "marine environmental conservation through research on ecology and biodiversity of deep-sea organisms."
Recent ESF News
News Archives
Communications & Marketing
SUNY-ESF
122 Bray Hall
1 Forestry Drive
Syracuse, NY 13210
315-470-6644