SHARE:
ESF Landscape Architecture Students Receive National Award
Project would build dune ecology on Buffalo's outer harbor

2/18/2013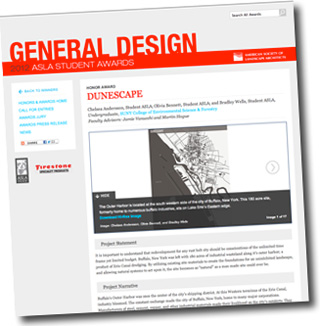 Students in the landscape architecture department at the SUNY College of Environmental Science and Forestry (ESF) received a national award from the American Society of Landscape Architects (ASLA).
Seniors Chelsea Andersson, Olivia Bennett, and Bradley Wells' project, Dunescape, received an Honor Award from the professional organization. Jamie Vanucchi, Martin Hogue, Isabel Fernandez and Dan Reeder served as their faculty advisors.
The Dunescape project proposes to redevelop 180 acres of industrial wasteland along the outer harbor of Buffalo, N.Y. by "utilizing existing site materials to create the foundations for an uninhabited landscape, and allowing natural systems to act upon it" creating a productive dune ecology, according to the project statement.
The awards honor the top public places, residential designs, campuses, parks and urban planning projects from across the United States and around the world.
Recent ESF News
News Archives
Communications & Marketing
SUNY-ESF
122 Bray Hall
1 Forestry Drive
Syracuse, NY 13210
315-470-6644