SHARE:
A Snapshot of Central New York Wetlands In The 1800s
Restoring an inland salt marsh

6/15/2009
The video originally included in this story is no longer available via this page. Contact web@esf.edu if more information is required.
Copyright © All Rights Reserved by copyright holder
(Syracuse, N.Y.) Thousands of travelers along the Onondaga Lake Parkway will be able to watch the rebirth of an inland salt marsh with the last of the plantings completed today by Onondaga County Parks Commissioner Bob Geraci and SUNY College of Environmental Science and Forestry President Cornelius B. Murphy, Jr.
Commissioner Geraci and President Murphy finished up the work started by the Onondaga County Parks Department and students in the ESF Department of Environmental and Forest Biology under the direction of Dr. Donald Leopold and doctoral student Tony Eallonardo.
Dr. Leopold explained, The area around Onondaga Lake was once extensive inland salt marsh with dozens of different species of very special plants only found in a few other non-tidal salt marsh locations in the eastern United States.
We want people to see the natural beauty of what was once here and demonstrate that the reintroduction of native plants that actually thrive in salty conditions show what we need to be planting along roadsides and in our urban landscape, said Eallonardo, who has been studying the few remnant inland salt marshes in New York and using this information to guide in the restoration of this globally endangered natural community.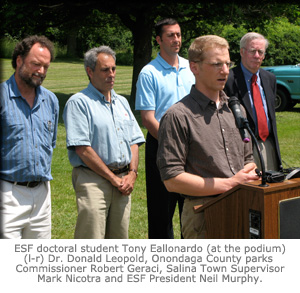 This inland salt marsh garden along the parkway also gives people an idea of whats being done in the Solvay Settling Basins, where similar plantings are being used to create a natural habitat while preventing erosion and runoff into waterways that empty into Onondaga Lake, said Murphy.
Onondaga County Executive Joanie Mahoney said, "We are grateful for our partnership with SUNY-ESF. They are helping us to improve lake conditions and slow run-off, while also restoring the salt marsh to its natural state and beautifying the community."
The 600-square-foot site, known as the Gale Salt Spring, is planted with perennials native to inland salt marshes, such as seaside goldenrod, prairie cordgrass, black grass, common three-square, salt meadow grass, smooth cordgrass, foxtail barley, saltgrass and marsh mallow.
Also planted in the site are annuals native to an inland salt marsh that offer quick cover as well as being salt tolerant. They are bearded sprangletop and fall panic grass.
These plants are quite attractive, provide long-term cover with low maintenance and are salt tolerant.
The Gale Salt Spring was built in the 1930s during construction of the Onondaga Lake Park and parkway. During construction, workers uncovered an old brine well that had been used by the Thomas Gale Salt Works and a stone memorial landscape feature was added to the Parkway.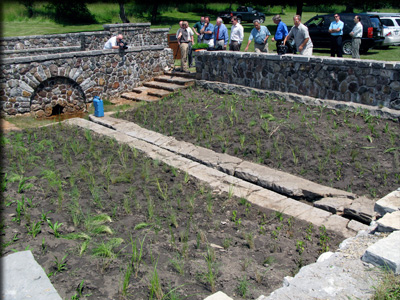 These historic features and new plantings can best be viewed on a casual basis during the MVP Health Care Parkway Sundays program, which begins Sunday, June 21 and continues on a 9AM-Noon basis through August 9.
We are thrilled that Onondaga County Parks Commissioner Bob Geraci has been interested in our past inland salt marsh restoration work and so readily facilitated this showcase along the Parkway, said Leopold.
Recent ESF News
News Archives
Communications & Marketing
SUNY-ESF
122 Bray Hall
1 Forestry Drive
Syracuse, NY 13210
315-470-6644