SHARE:
Murphy Honored as 'F.O.C.U.S. 2013 Wisdom Keeper'
President to receive award April 10

2/21/2013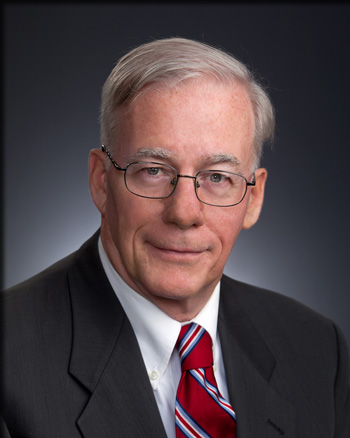 Dr. Cornelius B. Murphy, who has been president of ESF since 2000, will be honored as a F.O.C.U.S. 2013 Wisdom Keeper. Following is the announcement from F.O.C.U.S. Greater Syracuse, a community visioning program with the goal of making Syracuse a better place to live and work:
A Legacy to be Celebrated
Throughout his career as the leader for one of our region's largest engineering firms, O'Brien & Gere, and most recently as president of the State University College of Environmental Science and Forestry, Dr. Cornelius "Neil" Murphy has been recognized by many organizations and received numerous awards for his hard work and dedication to Syracuse and Central New York. On April 10th, we feel Neil Murphy will be honored with one of the most unique and distinct recognitions given in our community as F.O.C.U.S. Greater Syracuse's "Wisdom Keeper," an award recognizing his efforts in making the Central New York community more sustainable and an overall better place to live, work, play and explore.
F.O.C.U.S.'s Wisdom Keeper award is given in recognition to those that make a significant, positive difference in the community through their overall commitment to civic trusteeship. When the committee was looking at candidates for the 2013 Wisdom Keeper award, Neil was an easy choice, says F.O.C.U.S. executive director Charlotte "Chuckie" Holstein. "Neil is the essence of a Wisdom Keeper."
According to Native American legends, the Wisdom Keeper is one who hears the earth's story and teaches others to learn from, honor and care for the earth and their community. "Neil understands that our community is only on loan to us from the generations that came before," Chuckie says, "and he knows it is our job to leave it better than we received for the generations that have yet to come."
This is the fourth year the award has been given and previous recipients include Charlotte "Chuckie" Holstein, the Honorable William Sanford, Syracuse University Chancellor and President Nancy Cantor, and Dr. Judith Mower.
Neil's recognition as a Wisdom Keeper will be commemorated with a bronze plaque placed in the F.O.C.U.S. Wisdom Keeper Garden on the east side of City Hall Commons in downtown Syracuse. The Wisdom Keeper Garden is one way F.O.C.U.S. demonstrates the power and effect of sustainability on the local area.
The 2013 Wisdom Keeper event will be held April 10, 2013 from 5-8 p.m. at the Oncenter in Syracuse. The event will include a video presentation featuring colleagues, employees, friends and family, discussing his impact on their lives as well as the community and his legacy. The event will also feature a laugh-filled roast of Neil that will include some of his closest friends and colleagues, including O'Brien and Gere CEO Jim Fox, Honeywell's John McAuliffe, and SUNY Chancellor Nancy Zimpher. Different food stations will be available for the festivities including a dim sum table, sushi table, a gelato station, and a Mediterranean table featuring prosciutto, hummus, and grilled pitas. A cash bar will also be available.
F.O.C.U.S. would like to invite everyone from the SUNY-ESF community to join us for the evening to recognize and celebrate all that Neil has achieved before he steps down as President of ESF. For more information, please visit www.focussyracuse.org or call 315-448-8732. F.O.C.U.S. is offering a limited number of discounted and scholarship tickets.
F.O.C.U.S. is a nonprofit organization dedicated to helping citizens take an active and informed role in the decision-making process of our community by enabling citizens, organizations and government to work together to enhance the quality of our lives and our economic future for all.
Recent ESF News
News Archives
Communications & Marketing
SUNY-ESF
122 Bray Hall
1 Forestry Drive
Syracuse, NY 13210
315-470-6644