SHARE:
Oakie Advances to Round 2 of Mascot Madness
Acorn faces Farmingdale's Rambo the Ram

3/12/2013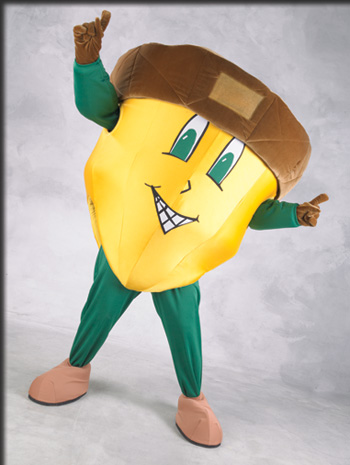 Oakie the Acorn upset 5th seed SUNY Delhi's Lucky the Bronco to advance to Round 2 in SUNY's Mascot Madness.
Oakie, the mascot of ESF's Mighty Oaks athletic teams and 28th seed in the tourney, trounced Lucky 2,171 to 1,630 to advance to the next round and face Farmingdale's Rambo the Ram. Farmingdale is a#12 seed.
The online contest pits SUNY mascots against each other in a standard single-elimination bracket of four divisions with five rounds. Thirty SUNY campuses representing 472 athletic teams and more than 220,000 students are participating.
Votes can be cast at www.facebook.com/generationsuny. Each person is allowed one vote per round, per matchup. You may vote from any electronic device: laptop, desktop, smartphone, tablet, iPod.
The competition includes five rounds of voting and runs through April 4. The winning college will receive a yet-to-be named prize from SUNY.
The competition is based on a series of questions posed to the mascots prior to the tournament including mascots' origin stories, thoughts on representing their teams, favorite events, friends and food, and what they like to do for fun.
Seed rankings are based on the number of teams a particular campus represents with enrollment data used to break any ties. Oakie currently represents nine men's and women's teams in ESF's growing athletics program.
The intercollegiate athletics program at ESF can trace its roots all the way back to 1912, when students organized a Forestry Club on campus that has sponsored an intercollegiate timber sports team every year since.
Today, students can compete on several ESF intercollegiate athletic teams, including soccer, golf, cross country, timber sports (Woodsmen's Team), basketball, and track. The Mighty Oaks are a member of the United States Collegiate Athletic Association (USCAA).
Recent ESF News
News Archives
Communications & Marketing
SUNY-ESF
122 Bray Hall
1 Forestry Drive
Syracuse, NY 13210
315-470-6644