SHARE:
Conservation Efforts Give Snow Leopards a Chance in Russia
Dr. James Gibbs kicks off Dale L. Travis Public Lecture Series

3/21/2013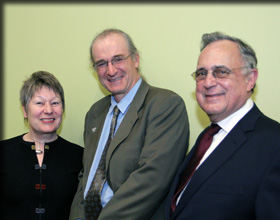 Dr. James Gibbs drew a standing-room-only crowd to the new Gateway Center March 20 for the first presentation in the Dale L. Travis Public Lecture Series.
Gibbs' lecture, "On the Brink: Saving Russia's Last Snow Leopards," drew more than 300 students, faculty and staff, along with community members to learn about efforts to save the endangered predator in the remote and rugged Altai Republic.
Gibbs, director of ESF's Roosevelt Wild Life Station and a professor of conservation biology, told the story of conservation work in a region occupied by humans since ancient times that is home to a complex integration of cultures. No one knows how many snow leopards remain there.
"These are incredibly secretive animals," Gibbs said. "When we are there doing field work we don't see them but we always get the feeling they are watching us."
His presentation was illustrated by photos that included images, captured by camera traps, of snow leopard adults and cubs but also other animals such as foxes, lynx, and the ibex that are the snow leopards' main prey.
In the early days of his partnership with researchers in the United States and Russia, he said, the scientists saw evidence of many different species but the snow leopards seemed to be missing from Altai, which is in southern Siberia bordered by China, Mongolia and Kazakhstan. The leopard population had been "snared out" by poachers because of the animals' value.
The first step in restoring the population was snare removal and the development of local anti-poaching brigades, he said. This was followed by the installation of high-tech devices that monitor temperature in cabins used by poachers; when poachers arrive and start a fire for warmth, the sensors send an electronic signal that alerts officials of the poachers' presence. Gibbs said such a signal had been received the day of the lecture.
"It's strange to bring this cutting-edge technology into this remote area but it works," he said. "This is exactly what is happening while we speak."
As recently as three or four years ago, he said, he believed the outlook for snow leopards in the Altai was "bleak." But the anti-poaching efforts, combined with the abundance of prey and photographic evidence that the leopards are in the area, provide reason to believe the snow leopard population can increase to a less precarious level.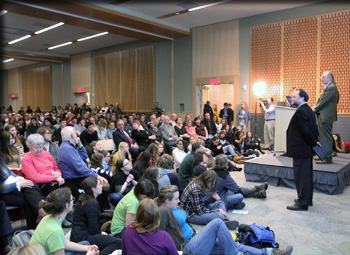 A key to further progress, he said, is providing economic opportunity to local residents so snow leopards have more value alive than dead. Many local people are herders who could lose scores of sheep to a snow leopard in a single night; conservation efforts can include steps to provide better protection to those herds. Conservation tourism, focused on travelers who can serve as citizen scientists who help with monitoring efforts, can also provide economic support for local residents.
During a question-and-answer period at the end of his presentation, Gibbs was joined by Mikhail Paltsyn, who works in Russia with the World Wildlife Fund and is studying for his Ph.D. at ESF.
The lecture series is supported by a gift from a 1959 graduate of ESF's wood products engineering program. Travis said he wanted to help provide an opportunity to tell the public about the research being done at the college. The event also celebrated the recent installation of specimens from the college's spectacular Roosevelt Wildlife Collection in the main concourse of the Gateway Center.
Recent ESF News
News Archives
Communications & Marketing
SUNY ESF
122 Bray Hall
1 Forestry Drive
Syracuse, NY 13210
Communications@esf.edu