SHARE:
ESF Heads to SEA
College now affiliated with Sea Education Association program

3/28/2013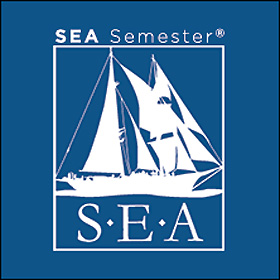 The SUNY College of Environmental Science and Forestry (ESF) is headed to SEA as it announces its affiliation with the Sea Education Association (SEA) Semester.
An internationally recognized leader in undergraduate ocean education, the SEA Semester is based in Woods Hole, Mass., and offers students a number of programs to chose from including ocean exploration, oceans and climates, energy and the ocean environment or marine biodiversity and conservation.
Students engaged in the 12-week SEA Semester spend the first six weeks taking classes at the Woods Hole campus. While there they develop the independent projects that they will conduct while at sea. The second part of the semester has them on the water.
"The students are actually out at sea learning, sailing the vessels," said Dr. Kimberly Schulz of the Department of Environmental and Forest Biology and the ESF contact for the SEA Semester. Each vessel has a captain, four scientists and 24 students per voyage.
"In all their classes they're learning not only marine science, but they're learning sailing and about the culture of what they're doing and other concepts depending on what they're studying," said Schulz, herself an alumna of the SEA Semester.
While students from any college can attend the SEA Semester, there are benefits to being an affiliated campus, said Schulz.
As an affiliated college, the admissions fee to SEA is waived for ESF students. There are also special fellowships available for ESF students, along with need-based financial aid, said Schulz. The credits earned at SEA transfer directly to ESF, the only SUNY affiliate for the SEA Semester. Students receive 17 credits during their SEA semester.
ESF has sent a number of students to the SEA program prior to its affiliation with the program.
"I've never heard anyone say anything other than, 'That was the most amazing thing I ever did,'" said Schulz. "They may decide based on that that being a blue-water oceanographer and going out to sea may not be for them, but they will have learned a ton. Or they may decide that's what they want to do for the rest of their life. Either way you're so immersed in the situation that there's no way you don't get a lot out of it."
Because of the close quarters onboard the vessel, it's important that participants are not only good students but are also able to get along well with others.
"Importance is placed on people's ability to get along," said Schulz, but for ESF students that aspect isn't difficult. "A lot of our students go to Cranberry (Lake Biological Station) and they've had a taste of that - not watching TV every night, only being able to send an email once in awhile. They know they want to be in a remote spot for a long time … You're unplugged for a lot of the trip just experiencing the science and the sea."
"I think that it appeals to a number of our students and it's a great opportunity that they're getting," she said. "There's no better way to learn about the environment than to be out in it and seeing it. This is right in line with most of the teaching done here."
For students interested in marine studies, ESF will be offering a marine science minor. Drs. David Kieber, Mark Teece and Schulz developed the interdisciplinary minor. The minor will be offered for the fall 2013 semester and students can do the minor by taking credits through the SEA Semester or via on-campus classes.
Classes within the minor include marine ecology with Schulz, marine biogeochemistry with Teece, chemical oceanography with Kieber and invertebrate zoology with Dr. Rebecca Rundell.
"Generally people who want to be a marine biology or marine scientist are encouraged to attend a college that provides a good strong background in environmental science, chemistry and biology," said Schulz.
"Taking a minor is a good way to decide if that's what you want to do while getting the strong environmental sciences background that you would get at ESF," said Schulz.
Recent ESF News
News Archives
Communications & Marketing
SUNY-ESF
122 Bray Hall
1 Forestry Drive
Syracuse, NY 13210
315-470-6644