SHARE:
ESF Launches Bicycle Safety Committee
Students, neighbors invited to participate

4/2/2013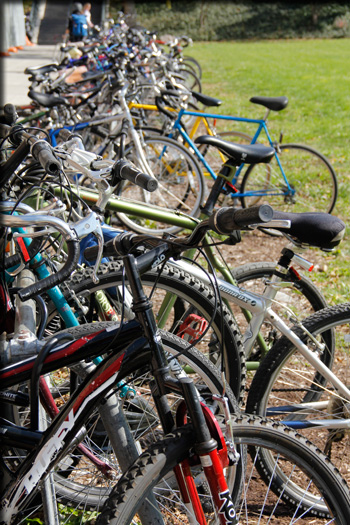 Dr. Melissa Fierke rides her bike to work at ESF nearly every day, which has given her an opportunity to develop a litany of frightening experiences and unnerving observations.
"I encounter myriad issues ranging from close calls with vehicles to near misses as a bus makes a right turn just after passing me. I also get frustrated seeing other bicyclists blatantly disregard the rules of the road as well as their own safety," said Fierke, an assistant professor in the Department of Environmental and Forest Biology.
Based on the challenges riders such as Fierke encounter on their daily commutes and a desire to encourage other members of the college community to ride bikes to reduce the campus' greenhouse gas emissions, ESF has formed a Bicycle Safety Committee. The group, which is a sub-committee of the Campus Climate Change Committee, is coordinated through the Office of Energy and Sustainability. It will focus on education and improved communication on best practices as well as increasing bike infrastructure on campus and making the ride from the University neighborhood to campus more navigable by bike.
Fierke, who chairs the committee, initiated its formation. The idea met with support from the college administration and enthusiasm from students.
"We hope to make a real difference," Fierke said. "We want to make bicycling safer for everyone who already rides their bikes and, we hope, reassure and encourage others who do not because they do not feel safe with the status quo."
A 2012 survey of commuter habits on campus shows 52 percent of the campus community either bikes or walks to campus. The survey found that bicycle use is 19 percent more prevalent among students than faculty and staff, largely because students as a whole live closer to campus.
Since its launch in January, the committee has coordinated the curb removal from campus pathways onto Forestry Drive on the north side of Illick Hall (scheduled to take place this summer), obtained a bicycle accident report from the City of Syracuse Police Department and began collaborating with neighborhood groups and city officials about making cycling safer along Euclid Avenue.
The committee has also been working with Syracuse University Campus Planning to put bike boxes on the intersection of Sims Drive and Comstock Avenue. A bike box is a large painted square on the pavement on the inside lanes at intersections to show cyclists that they should stop in front of the line of vehicles when there is a red light. The committee is also working on ways to educate the ESF community about bicycle safety during Earth Week, which will be celebrated on campus April 15 to 22, and during future freshmen orientations. In addition, the committee plans to develop a bicycle safety web page and propose policies supporting bicycle rights at ESF.
The committee membership is open to ESF and SU faculty, staff and students, and the local community. The next meeting will be 4 p.m. Thursday, April 18, in 313 Bray Hall. Questions about the committee can be sent to sustainability@esf.edu.
Recent ESF News
News Archives
Communications & Marketing
SUNY-ESF
122 Bray Hall
1 Forestry Drive
Syracuse, NY 13210
315-470-6644