SHARE:
Elevator Pitch Brings Big Payoff for Brief Presentation
Graduate students practice how to keep it short

4/11/2013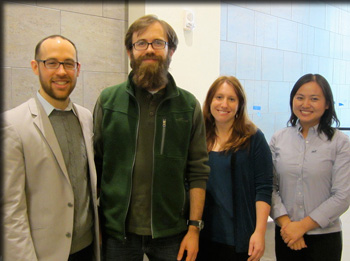 ESF's second annual Elevator Pitch competition challenged graduate students to pitch their research in front of their peers and members of the broader campus community for a total of $600 in prize money. The catch: each contestant was limited to a 60-second presentation, roughly the average length of an elevator ride they might someday share with a potential employer, luminary, or grant administrator.
Sixteen contestants were reduced to a pool of six based on decisions by a panel of judges. Three winners then emerged from a popular vote.
Matthew Regan, a master's degree candidate in the Department of Environmental and Forest Biology working with Dr. Donald Leopold, took home the $300 first prize for his description of restoring the plant biodiversity of coastal wetlands that have been dominated by invasive cattail due to stabilized water levels.
Stacey Mack, a Ph.D. student in the Department of Forest and Natural Resources Management working with Drs. Rene Germain and Sharon Moran, placed second for a prize of $200 for her research on community decision making for natural resources. Using a paired watershed approach, Mack is studying how communities in the Marcellus shale make decisions for hydraulic fracturing and other resource issues.
Finally, Tingting Yin, a masters' degree candidate in the Department of Environmental Science working with Dr. Diane Kuehn, took third place and won $100. Her study indicates that social marketing provides a useful and systematic process for planning, implementing and evaluating a campaign aimed at environmental behavior change with regard to reducing local fuel wood consumption by promoting the adoption of energy-efficient stoves in China.
Judges for the event were Associate Provost for Instruction and Dean of the Graduate School Scott Shannon, Research Associate Colin Beier, Assistant Professor Benette Whitmore, Visiting Instructor Tom McGrath, and Whitney Lash Marshall, president of the Graduate Student Association.
The event, held in the Gateway Center March 29, was sponsored and organized by the ESF Graduate Student Association Professional Development Committee. It was co-sponsored by the Office of Instruction and Graduate Studies, the Department of Environmental Studies and the Department of Environmental and Resources Engineering.
Recent ESF News
News Archives
Communications & Marketing
SUNY-ESF
122 Bray Hall
1 Forestry Drive
Syracuse, NY 13210
315-470-6644