SHARE:
Take Our Kids to Work Day Comes to ESF
Children experience day of hands-on science

4/25/2013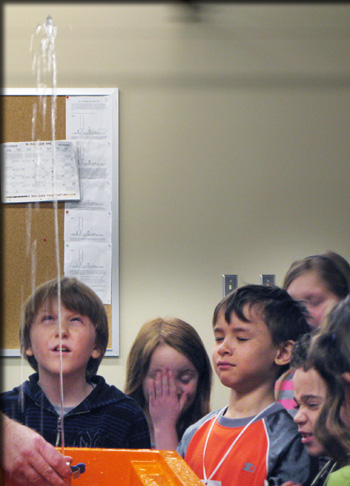 "Why are the animals on sticks? … It looks like a lollipop."
"Why don't you have an octopus in the collection?"
"How come all the eyes are white?"
These were a sampling of the questions children peppered Ron Giegerich, instructional support specialist, with as he showed them the Roosevelt Wildlife Collection as part of Take Your Kids to Work Day at ESF on April 22.
Thirty-three children (and grandchildren, nieces and nephews) of faculty and staff attended the day filled with hands-on science and exploration.
"Pay attention today because there's a test at the end," Heather Engelman, who organized the event, told the group at the beginning of the day. She paused to gauge her audience's stunned reaction before telling them, "That's not entirely true, but we will ask you your opinions about what you liked."
"Professors and recent graduates are going to be sharing things from their fields that are truly cool," she told the group of 8- to 12-year-olds.
The kids were then divided into two groups to move through a schedule that included learning about tree growth, urban forestry, watersheds, hydrology, chemistry, sustainable building, and a visit to the collection room of the Roosevelt Wildlife Museum. ESF students involved in the Service Learning program shepherded the kids to and from the activities and helped with the experiments. Children and parents met back up halfway through the day to enjoy lunch together and share some of the day's experiences at the Gateway Center.
Mary Anne Stanton's daughter Priya, 12, is a veteran of Take Our Kids to Work Day and was attending for the last time this year. "She loves the activities, the hands-on scientific experiments," said Stanton. "She also gets to see friends that she only meets up with once a year."
For Stanton, the benefit is exposing her daughter to a multitude of science-based careers. "I also like the example she sees of people getting up every day and serving a community. It's a good lesson because going to work is different from a school day." Stanton is an administrative staff assistant in the Office of Research Programs.
ESF's Women's Caucus has been hosting Take Our Kids to Work Day since 1995, according to Engelman, a research analyst in the Department of Forest and Natural Resources Management. Originally, the day was just for daughters but has since been expanded to include boys.
Engelman's own son is not yet old enough to attend Take Your Kids to Work Day, but she was involved with the program even before she was a mom.
"I didn't have very much exposure to careers when I was little or even in high school," she said. "It was very frustrating." Many of the activities are led by women, she noted, to enable girls attending to see themselves in the various careers.
Devin Beal, son of Dr. Richard Beal, assistant dean for Educational Outreach and Credit Programs Outreach, said his favorite part of the day was learning about hydrology and how to design a fountain with Dr. Ted Endreny, chair of the Department of Environmental Resources Engineering, and Paul Szemkow, instructional support specialist. "I liked the water activity best because I liked getting wet," he said.
The day left its mark on the kids. By day's end, among other things they learned, they could tell you the five groups of vertebrates found in the Roosevelt Collection (fish, amphibians, reptiles, birds, mammals), they knew about velocity and water pressure, and the benefits of planting and maintaining healthy trees.
As for the answers to the questions they asked Giegerich,
those were:
"For additional support."
"An octopus is not a vertebrate." and
"Because the animals are stuffed with cotton."