SHARE:
Bike Library Rolls onto ESF Campus
Program to enable students to borrow bicycles

4/30/2013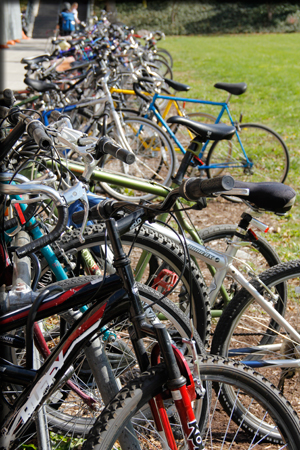 This fall borrowing a bike at the SUNY College of Environmental Science and Forestry could be as easy as borrowing a book from Moon Library.
Senior environmental study majors Frannie Monasterio and Drew Gamils developed a program that will enable students to borrow bikes for a small deposit. The program will begin at the beginning of the fall semester.
The process is simple, explained Gamils. Students in need of two-wheel transportation will go to Moon Library, fill out the necessary paperwork that includes a waiver and renter's agreement and pay the $20 Bike Library membership fee that will entitle students to unlimited rentals.
"It's good for the entire academic year," said Gamils. "You can take the bike out as many times as you want and go wherever you want - recreation, errands, groceries. The bikes have little baskets on them, but they aren't too big, so bring your backpack."
"Bike checkout will be similar to checking out a book or USB," said Monasterio. Keys will be in scannable plastic bags keys that correspond with a number on the lock and bike. Students will swipe their IDs after the necessary paperwork is complete and can check out a bike for 24 hours.
The Bike Library was the result of great minds thinking alike. Monasterio conducted an ESF parking analysis after changes were made to campus parking policies in 2012. "The campus is expanding and we're losing parking spots at both ESF and SU," she said. While the study wasn't conclusive, Monasterio said it was clear the campus could use an alternative form of transportation.
Meanwhile, Gamils had taken classes in the Department of Landscape Architecture with Associate Professor Emanuel J. Carter, an advocate of bike library and bike-share programs. While taking Carter's studio class Gamils researched bike infrastructure in Syracuse and devised ways to improve the bike ordinances.
"I improved them, but nothing came of it," she said. "That was the frustrating part. I did all this work, looked at all these different situations and policies but it was all hypothetical because it was just a class. That drove me to think about what can I do to make a difference and implement a program I can be proud that it's not just homework."
Monasterio and Gamils began talking about the issue and decided to start a program to address the needs of the campus community.
To begin, the Bike Library has five bikes to lend. The organizers hope to expand the program in the future. "It seems appropriate for starters," said Monasterio, "to start small and work out logistical issues, then when we find those out we can flesh out the program further and expand with additional bikes."
The bikes, Kona Africabike 3s, were purchased from Melo Vello Bicycle Shop, located on Westcott Street and owned by Ranger School alumnus Steve Morris ('06). The purchases were made using grant money from the Green Campus Initiative Sustainability Fund, the Honors Fund and the Gifford Foundation. Morris has provided guidance to the students, as well as expertise regarding the bikes. As an added benefit, the Kona company takes a portion of its profits and purchases bikes for communities in Africa.
With Monasterio and Gamils graduating in May, the Bike Library will fall under the auspices of the newly formed Bike Library Committee. "They'll be in charge of simple bike maintenance and in charge of expanding and marketing the program," said Gamils.
The program will have some teeth in it, Monasterio pointed out. In the fall, they hope to tie it in with the rest of the students' fees. "Every day late would result in a $15 charge," she said. "We don't assume the worst, but we want to be prepared." If after 10 days, someone fails to return the bike or report it stolen he or she would be charged $500 to replace the bike and the modifications that have been installed.
"But as long as you're doing what you're supposed to do," said Gamils, "by using both the U-lock and back-tire locks properly, you should be OK."
The pair expects the program to be well received. "A lot of students have their own bike, but are nervous about theft or maintenance," said Gamils "But we have a committee that will do simple maintenance."
One goal of the program is to branch out on University Hill through Syracuse University and businesses along the Connective Corridor. Monasterio said SU has already contacted Morris about starting a bike-sharing program and he used ESF's Bike Library as model.
"We're not even through all the details and already being asked about it for a model," said Monasterio, "It's really exciting."