SHARE:
Rosen Fellowships Allow Students to Pursue Exciting Projects
International study, in-depth research drives students

5/9/2013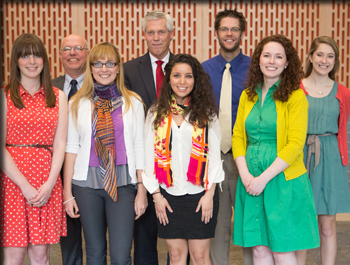 Four students from the SUNY College of Environmental Science and Forestry (ESF) have received Rosen Fellowships, enabling them to pursue a dream this summer through an out-of-classroom experience.
The Rosen Fellowship Program, a recent addition to the College's internship portfolio, gives students an opportunity to learn while pursuing a real-world experience linked to their career and life goals.
"We received 31 applications and ended up being able to fund four exciting projects, versus the three we originally anticipated," said Laura DeJoseph, internship coordinator.
Megan Ewald, a sophomore environmental studies major, will be working at a grassroots sea turtle conservancy, El Grupo Ecologico de la Costa Verde. Ewald will use her funding to finance her two months working with the organization in Puerto Vallarta, Mexico. While in Mexico, Ewald will survey local beaches to detect, relocate, and incubate nests to help ensure the survival of endangered turtles. She will also assist in community outreach.
"I could not have afforded to do this without the fellowship," said Ewald. "With paying for school and work study - it's hard to make ends meet."
Ewald hopes to become a Peace Corps volunteer which requires that applicants have some international experience. This fellowship provides that needed experience, she said. Eventually, Ewald would like to work with an environmental non-governmental organization.
Other fellowship winners are:
Anna Evers, a Ph.D. student in forest resource management who is focusing on monitoring, analysis and modeling. She will use her Rosen Fellowship to fund her travels to Mezquitic, Jalisco, in central Mexico, to further develop her existing non-profit venture, SunRazors. Evers' SunRazors venture seeks to electrify off-the-grid rural areas with clean solar power. She has already raised funds through donations in exchange for Mexican handicrafts created in the village she hopes to electrify by 2014. Evers' travels will allow her to further develop her venture by gathering necessary data about the village conditions as well as build trust and give demonstrations to the local populations.
Teagan Dolan, a sophomore environmental studies major. The Rosen Fellowship will fund her summer of study in West Virginia working for the non-profit organization, Coal River Mountain Watch. Dolan has worked with the organization to develop a personalized research internship in relation to mountaintop removal coal mining. She will evaluate stream quality with the West Virginia Department of Environmental Protection, illustrate the change in quality and landscape of pre- and post-mining sites with GIS, attend mine permit hearings and participate in anti-mountaintop removal advocacy.
Stephanie Smith, a master of professional studies candidate in conservation biology, working toward a career in ethnobotany. The Rosen Fellowship gives her the opportunity to conduct a medical ethnobotany study in Panama that will complement her degree and prepare her for future Ph.D. research endeavors. Specifically Smith will be conducting research with women from the Ngobe and the Guna tribes of Panama, exploring indigenous health systems from a female perspective in an attempt to conserve and preserve local customs while transcending gender bias in research.
Rosen Fellowships are supported by a $15,000 gift from the Florence and Robert A. Rosen Family Foundation. The Rosens are successful business people who have also sponsored ESF interns at their Lakeside Farms property in the Hudson River Valley.
Recent ESF News
News Archives
Communications & Marketing
SUNY-ESF
122 Bray Hall
1 Forestry Drive
Syracuse, NY 13210
315-470-6644