SHARE:
ESF to Confer Degrees at May Commencement Ceremony
Numerous activities planned for graduation weekend

5/3/2013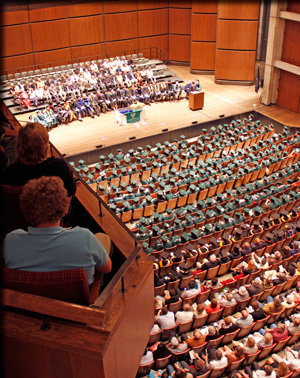 The SUNY College of Environmental Science and Forestry (ESF) will confer more than 535 degrees during joint Commencement exercises with Syracuse University May 12 in the Carrier Dome.
During the ceremony, ESF will confer 427 bachelor's degrees, about 80 master's degrees and some 16 doctoral degrees.
The college also awards associate in applied science degrees at its Ranger School in Wanakena. Twenty-three students in the forest technology program, 16 students in the environmental and natural resources conservation program and six students in the land surveying technology program will receive degrees during a ceremony 11 a.m. May 18 at Clifton-Fine High School in Star Lake.
Commencement weekend festivities in Syracuse begin at 10 a.m. Saturday, May 11, with curriculum-specific receptions for degree candidates, their guests and members of the ESF college community.
The college's traditional convocation will be at 1 p.m. Saturday, May 11, at the John H. Mulroy Civic Center. Bachelor's, master's and doctoral degree candidates will be honored. Dr. Sandra Steingraber, ecologist, author and cancer survivor, will receive an honorary degree. Steingraber's book Living Downstream: An Ecologist's Personal Investigation of Cancer and the Environment was the first to bring together data on toxic releases with data from the U.S. cancer registries. Among her honors, she has received the Altman Award for "the inspiring and poetic use of science to elucidate the causes of cancer," and the Rachel Carson Leadership Award from Chatham College. She is currently a scholar in residence at Ithaca College and columnist for Orion magazine.
During the convocation, departmental honors will be bestowed upon the top students in each of the college's discipline areas. Michelle R. Meyer of Baldwinsville will be the student speaker. Jocelyn Gan of Flushing will present the class gift.
On Sunday, May 12, a continental breakfast for master's and Ph.D. candidates will be served at 7:30 a.m. in the Gateway Center. A recognition ceremony for advanced degree candidates begins at 7:45 a.m. The undergraduate continental breakfast will begin at 8 a.m. in Marshall Hall's Alumni Lounge.
Joint commencement exercises with SU will begin at 9:30 a.m. Sunday in the Carrier Dome. Class Marshals leading the ESF degree candidates in the Commencement procession are Kelsey Taylor of Holbrook and Meyer. Departmental scholars are Graham W. Heberlig of Spearfish, S.D. (chemistry), Martin Holdrege of Ghent (environmental and forest biology), Nathan J. Sleight of Fayetteville (environmental science), Meyer (environmental studies), Rachael L. Weiter of Manlius (environmental resources engineering), Lauren K. Worrell of Oakland, Calif. (forest and natural resources management), Zachary M. Barker of Silver Springs, Md. (landscape architecture), Aislinn R. Brackman of Syracuse (paper and bioprocess engineering) and Marc A. Delaney of Syracuse (sustainable construction management and engineering).
Recent ESF News
News Archives
Communications & Marketing
SUNY-ESF
122 Bray Hall
1 Forestry Drive
Syracuse, NY 13210
315-470-6644