SHARE:
Honoree Sets Path for Grads to Improve Their World
ESF awards Steingraber honorary degree: Doctor of Humane Letters

5/13/2013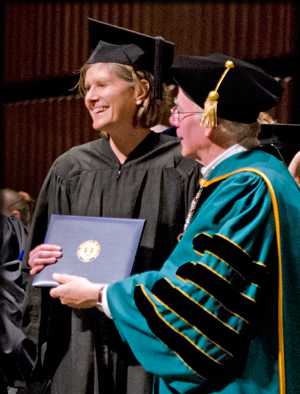 Sandra Steingraber was a natural choice to receive an honorary degree from the SUNY College of Environmental Science and Forestry (ESF).
Steingraber, an ecologist, author and cancer survivor, who was honored during ESF's annual Convocation May 11, has been heralded as "the new Rachel Carson'' by the Sierra Club. The scholar in residence at Ithaca College is at the forefront of the clean energy and anti-fracking movement in New York state. She is recognized around the world as a leading authority on the environment and the role it plays in cancer and human health.
Her most recent memoir, "Raising Elijah: Protecting Children in an Age of Environmental Crisis,'' shares the insights of a scientist and mother who is determined to protect her children from the toxic and climate-challenged world in which they live. Her best-known book, "Living Downsteam: An Ecologist's Personal Investigation of Cancer and the Environment,'' takes a compelling and personal look at the high incidence of environmental toxins and of cancer in Steingraber's native Illinois.
"It makes a formidable statistical case, linking environmental factors to cancer,'' said Dr. Cornelius B. Murphy, Jr., ESF president, in his introduction of Steingraber at Convocation.
"And she is not one to rest on her laurels,'' Murphy added.
Indeed. In accepting her Honorary Doctor of Humane Letters, Steingraber said the recognition is especially meaningful to her because ESF's motto "consists of the three words that I happen to live by."
"Those words - for the guests here who may not know them - are not a Latin phrase about the nature of truth and wisdom. They are a set of simple directions in English.
"Improve your world. Isn't that great?''
Making Improve Your World a personal mission requires at least two things, Steingraber said. "One is to possess really good data on what's wrong with the world.'' That means analyzing "hard truths,'' like the environmental and human toll of an unstable climate, "without flinching.''
The second thing Improve Your World requires, Steingraber said, "is a willingness to do something based on the data.''
Doing the work of political action has taken Steingraber from town meetings to the White House to the European Parliament - and, earlier this year, to a county jail.
"As an inmate, I was sentenced to 15 days of incarceration for an act of civil disobedience that involved blockading a compressor station on the banks of Seneca Lake,'' she said. "This lake is a source of drinking water for 100,000 people and under it, in abandoned salt caverns, the gas industry seeks to store billions of gallons of fracked, pressurized explosive petroleum gases trucked in from out of state.''
Steingraber noted that it was her diagnosis with bladder cancer at the age of 20 that lead her to environmental science, to political action - and to Improve Your World.
"Today I wear an academic robe,'' she said to applause. "But I would rather wear an orange jumpsuit so that my children do not have to wear a blue hospital gown. Wouldn't you?''
Saturday's Convocation at the John H. Mulroy Civic Center featured a full auditorium of ESF faculty, graduates, families and friends. Departmental honors were bestowed on top students in each of the College's discipline areas.
Dr. Bruce C. Bongarten, provost and vice president for academic affairs, welcomed the graduates and the gathering.
At the conclusion, Preston Gilbert, class of 1973, welcomed the newly minted members of the ESF Alumni Association.
- By Margaret McCormick