SHARE:
College Begins Expansion of Centennial Hall
Residence hall to add 84 beds

5/16/2013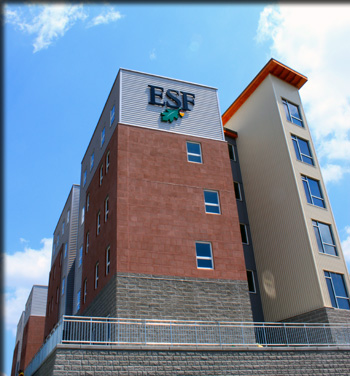 ESF has embarked on a project to expand its first residence hall, Centennial Hall, in a response to student interest that has kept the building at capacity for its first two years.
A five-story, 84-bed addition will be constructed on the west end of the residence hall, which opened in the fall of 2011. The addition will expand the building's capacity from 452 students to 536. It will also include expanded indoor bicycle storage space, meeting space and additional laundry facilities.
"Our students responded to the opening of Centennial Hall in a big way," said Brenda Greenfield, executive director of the ESF College Foundation, which owns the building. "Expanding the facility will give more students an opportunity to live in ESF housing, and immerse themselves in ESF campus life, which they clearly want to do."
Before Centennial Hall opened in the fall of 2011, ESF students lived in residence halls at neighboring Syracuse University or rental units off campus.
The Onondaga Civic Development Corp. is providing tax-exempt bonds for the expansion, which is expected to cost $7.3 million. The building cost about $30 million originally.
Site work will be done this summer. Modular sections of the addition will be fabricated off campus during the fall and winter. Construction work at the site is expected to begin in March 2014 and the addition is scheduled to be completed in time for the fall semester of 2014.
"The work is scheduled to minimize disruption to the students who are living in the building," Greenfield said.
Centennial Hall is believed to be the largest modular construction project in Central New York. That method was chosen because it reduces waste and speeds construction, especially in harsh climates because the assembly of the modular units is done indoors. The 134,000-square-foot original building was constructed in only 15 months. The 34,000-square-foot addition will be built by Hueber-Breuer Construction Co., which also built the original building.
Centennial Hall is located at the western edge of the ESF campus, near Oakland Street and Fineview Place. The building earned Gold Certification from the U.S. Green Building Council's Leadership in Energy and Environmental Design program. Among the environmentally friendly features are windows designed to take advantage of natural lighting, minimize heat loss and provide for natural ventilation; a storm water management system that uses rain gardens to essentially eliminate runoff; and landscaping that includes native plants, minimizes maintenance and provides a pedestrian-friendly setting.
Recent ESF News
News Archives
Communications & Marketing
SUNY-ESF
122 Bray Hall
1 Forestry Drive
Syracuse, NY 13210
315-470-6644