SHARE:
ESF Cheers for Student Athletes
Most improved, most valuable players honored

5/20/2013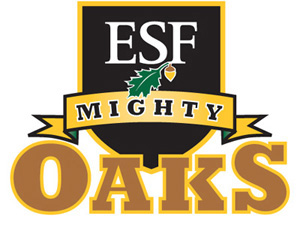 ESF celebrated the success of its athletic teams this spring with a capacity crowd at a banquet held in the college's new Gateway Center. For the first time in ESF's history, student athletes gathered to represent the men's and women's soccer, cross-country and timber sports teams as well as the golf team and the first-year track and basketball programs.
Graduating seniors, some of whom played on ESF's first varsity teams, received special thanks for their participation and efforts.
Recognized as most improved players were Matt Herbert, golf; Michael Walczyk and Maureen Bishop, soccer; Taylor Yerrick and Emily Martin, cross country; Charlotte Rozanski, Tori Tremble and Stephen Slonsky track; Evan McFee and Kelley Corbine, timber sports; and Sage Beemer, basketball
Honored as most valuable players were Ryan DiRado, golf; Kyle Bardwell and Brooke Harris, soccer; Timmy Callahan and Cambria Ziemer, cross country; Callahan and Nicole Madden, track; Jason Schenck and Cassandra Pinkoski, timber sports; and Danny MacElrath, basketball.
President Cornelius B. Murphy, Jr., in his awards speech, recognized this year's seven U.S. Collegiate Athletic Association (USCAA) second team All-Americans, six first team All-Americans and 23 Academic All-Americans.
The ESF Alumni Association and Centennial Hall provided generous financial support for the event.
"Our athletics programs have experienced tremendous growth and have accomplished some amazing achievements. All of our student athletes and coaches and the entire campus community should be extremely proud," said Dan Ramin, coordinator of college athletics.
Recent ESF News
News Archives
Communications & Marketing
SUNY-ESF
122 Bray Hall
1 Forestry Drive
Syracuse, NY 13210
315-470-6644