SHARE:
ESF College Foundation Honors Miller for Teaching Achievement
Landscape architecture instructor is ESF alumnus

5/23/2013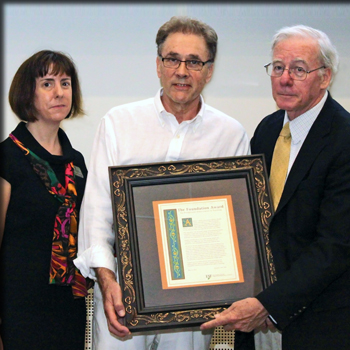 Anthony J. Miller, an instructor in the SUNY College of Environmental Science and Forestry's (ESF) Department of Landscape Architecture, has received the 2013 ESF College Foundation Award for Exceptional Achievement in Teaching.
Miller, who earned his bachelor's degree from ESF in 1973 and returned to teach 14 years ago, was praised as a skilled educator who encourages students to think deeply about their chosen field. He has taught an array of classes in the department, including design studios, history of landscape architecture and graphic communication.
ESF students who supported the nomination stated Miller is routinely available to help them with projects and problem solving, even if they are not enrolled in his class. Students describe Miller as fun, understanding and forgiving. He was praised for encouraging his students to delve into history to understand the historic social and cultural mores that helped shaped the spaces they work on in their design projects.
In addition to his degree from ESF, Miller did graduate work at Edinburgh University and earned his M.A. from Syracuse University. He has extensive professional experience as a landscape architect.
The ESF College Foundation, the charitable organization that provides support to ESF, established the award in 1999 to celebrate the accomplishments of ESF faculty members who have achieved excellence in their teaching responsibilities. The Foundation provides winners with a personalized framed citation and a cash award of $1,000. A plaque displayed on the ESF campus permanently lists the names of all recipients.
Recent ESF News
News Archives
Communications & Marketing
SUNY-ESF
122 Bray Hall
1 Forestry Drive
Syracuse, NY 13210
315-470-6644