SHARE:
Economic Development Project Focuses on ESF Willow Project
Council announces training program for commercial-scale biomass production

6/12/2013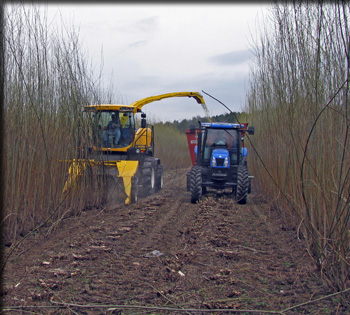 The Central New York Regional Economic Development Council (REDC) has announced that the SUNY College of Environmental Science and Forestry (SUNY-ESF) is launching an outreach and training program to develop commercial-scale production of willow biomass as a renewable, sustainable energy source. The program is moving forward on the strength of $397,000 awarded through Governor Andrew M. Cuomo's Regional Council Initiative.
The training program, which is receiving the funds from the New York State Energy Research and Development Authority (NYSERDA), will support the transfer of technical knowledge from producers who have grown willow on an experimental basis around New York state and developed best practices for the production, harvest and post-harvest handling of willow. It is for farmers, agricultural and environmental scientists, educators, agricultural lenders and bioenergy investors. Training is expected to be offered to companies all along the supply chain, including wood chip haulers, custom harvesters, and end-users, in Clinton, Essex, Franklin, Herkimer, Jefferson, Lewis, Oneida, Oswego and St. Lawrence counties.
"Advancing this program at SUNY-ESF focused on sustainable agriculture and technology is precisely the kind of investment we need to assure Central New York's competitiveness nationally and globally," said Nancy Cantor, chancellor of Syracuse University and REDC co-chair. "This training program will build our regional knowledge base across the willow industry, with ripple effects across the supply chain from farms to processors and educators to investors."
"SUNY-ESF's training program is not only an investment in the biomass industry, it is an investment in New York state's economy and environment," said Robert M. Simpson, president of CenterState CEO and REDC co-chair. "By supporting the reduction of our state's carbon footprint, we create a more sustainable, environmentally sound future."
The willow biomass training program dovetails with the U.S. Department of Agriculture (USDA) Biomass Crop Assistance Project (BCAP), which awarded $1.2 million in 2012 to support willow biomass crops in the nine New York state counties. Funding was directed to landowners and producers for establishment and maintenance of up to 1,200 acres of willow. Support from Empire State Development's Division of Science, Technology and Innovation - through its Technology Transfer Incentive Program - has been essential in laying the groundwork to make the expansion of willow possible. This project is the largest expansion of willow biomass crops to date in North America.
"Willow biomass crops are being developed as a source of renewable energy that can be grown on marginal agricultural land in New York and across the northeast and midwest United States. The 1,200 acres of willow biomass crops in this project in northern New York is the largest expansion of this system to date in North America," said Cornelius B. Murphy Jr., president of SUNY-ESF. "NYSERDA has been a key partner in the development of this system for a number of years, and this project will move it to the next stage of commercialization. The funding that NYSERDA is providing to support the expansion of willow biomass crops in northern New York is essential not only for the success of this project but also to lay the groundwork for future expansion of this renewable energy industry. We are grateful for the shared vision and support that NYSERDA has provided over the years that has transformed this system from a research idea into a source of renewable energy that is being commercialized."
SUNY-ESF's training program builds upon the USDA initiative by offering a workforce training program that increases farm workers' familiarity with willow planting and harvesting machinery, demonstrates management practices for willow biomass crops, assists New York companies with the development of infrastructure to support the willow industry and explores ways to expedite the expansion of willow biomass systems.
Bioenergy producer ReEnergy Holding has committed to purchasing all the willow grown over 11 years through the BCAP project to produce renewable energy at one or more of its upstate New York facilities in Black River and Lyonsdale.
"Through this exciting and innovative collaboration, we are able to leverage the research done at SUNY-ESF, broaden the availability of renewable fuels, and create jobs and improve the regional economy by supporting local farmers and landowners," said Larry Richardson, chief executive officer of ReEnergy Holdings. "This moves us toward a more sustainable, energy-independent and environmentally sound future for Central and Northern New York. "
As a renewable resource, willow is planted once and can be harvested every three years. A single planting can result in up to seven harvests over 22 years. Willow contributes to the rural economy by diversifying crops, restoring production of underutilized land and creating an alternative farm income source that stimulates the entire local economy.
Additional ecological and environmental benefits of willow include reduction in soil erosion and associated pollution, stable nutrient cycling, creation of good foraging and nesting habitat for a diverse array of bird species and increased biodiversity over agricultural land.
"SUNY-ESF is an extraordinary teaching and research institution and we commend President Murphy for his vision, leadership and commitment to excellence. As the nation's oldest college dedicated solely to the study of the environment, developing renewable technologies and building a sustainable future, its mission is closely aligned with Governor Cuomo's strategic objectives for a clean-energy economy," said Francis J. Murray Jr., president and CEO, NYSERDA. "Education is fundamental to the successful expansion of the willow biomass industry. SUNY-ESF's training program will provide the skills development necessary to grow this vital industry - ultimately improving our environment, creating jobs and promoting economic growth in New York State."
Jim Barber, director of the USDA Farm Service Agency in New York, said, "A successful domestic biofuels industry centers not just on science, or technology, but farmers, too. This is the beginning of another pioneering new market opportunity for New York farmers, and how regional investments, coupled with BCAP, will create locally-grown fuels and more jobs in rural areas."
New York State Senator David J. Valesky said, "This program is exactly what we need to expand the state's efforts in leveraging our agricultural assets for sustainable energy production. Too often, there is a gap between developing technology and practical use. I commend NYSERDA and ESF for creating and funding a program to bridge that divide."
Assemblyman Bill Magnarelli said, "I want to thank NYSERDA for continuing to support the advancement of programs at SUNY-ESF. This important program will help farms in New York State develop, grow and harvest willow biomass products, expanding opportunities to market diverse crops and support our local economy."
The REDC initiative is a key component of Governor Cuomo's efforts to spur economic development and job creation across New York state. In 2011, Governor Cuomo established 10 REDCs to develop long-term strategic plans for economic growth for their regions. The councils are public-private partnerships composed of local experts and stakeholders from business, academia, local government and non-governmental organizations. The REDCs have redefined the way New York invests in jobs and economic growth by putting in place a community-based, bottom-up approach and establishing a competitive process for state resources. As a result of the first two rounds of competitive awards, the state is supporting more than 1,450 regionally significant economic development and community revitalization projects that are creating new jobs for New Yorkers and generating investments that grow our economy.
Recent ESF News
News Archives
Communications & Marketing
SUNY-ESF
122 Bray Hall
1 Forestry Drive
Syracuse, NY 13210
315-470-6644