SHARE:
The Knock of Opportunity Helped Form Popular ESF Band
The Vanderbuilts draw on ESF mindset, experiences

7/3/2013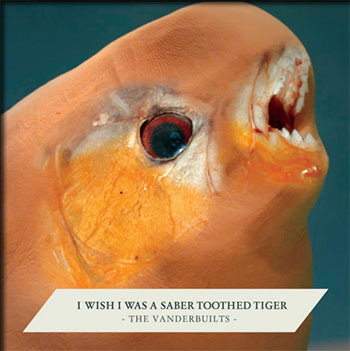 A knock on a door freshman year resulted in an award-winning band, The Vanderbuilts, a five-member band of former ESF students, getting ready to embark on the next stage of their musical (and scientific) careers.
The Vanderbuilts - Aya Yamamoto (fiddle), Sam Kogon (vocals and guitar), Max Newland (bass), Dave Riddell (keyboard), and Grennan Milliken (drums) - met while attending ESF. That impromptu 2010 jam session lead to the formation of the band that has earned numerous awards and accolades including Syracuse University's Battle of the Bands in 2010 and the award for best new artist at the Syracuse Area Music Awards (SAMMYs) in 2013.
The band's second album "What We Forget," was released in March 2013 and was produced by Grammy award-winner Jay Newland, with added violin arrangements from Finnegan Shanahan. The concept album takes the listener on a journey traveling from "time to time, place to place, yearning for a simpler way of life, making a plea or pleading for the return of nature. With one eye looking to the nostalgic past, and another looking towards the future, the new record is a crossroads of sorts, for the band as well as society in general," the band writes on its website.
For the band, that crossroad came with graduation. Yamamoto, Kogon, Newland and Riddell all graduated from ESF in May 2013. Milliken graduated in 2012. As the band members look toward their shared and separate futures, they took some time to reflect.
Much like superheroes, every band has an origin story. What's the story of The Vanderbuilts' formation?
Aya Yamamoto (EFB, '13): In the freshman dorms, I read a sign on one of the doors inviting folks to knock if they wanted to jam. I took up the offer one night and Sam Kogon went next door to fetch Dave. Sam and Dave had apparently heard each other playing from either side of the dorm-room walls and had been jamming together since. Grennan and Max were both acquaintances of Sam's. Sophomore year, we decided to form a band, and started practicing in Max's attic. A few weeks later, we played our first gig, which was a battle of the bands in the Schine Underground.
Where did the name come from?
Sam Kogon (ESt, '13): We were in a bit of a scramble for a name as we had booked our first gig (the SU battle of the bands) two weeks after forming the group. We all had name ideas floating around. A close friend of mine, James Dufficy, suggested the name as the Vanderbilt family resided in one of their numerous mansions near my hometown of Rhinebeck, N.Y. We added the letter U to make things different and for legal reasons. We never intended to keep the name, but after we won the battle of the bands, word had already spread about us and the name just stuck.
The band used promotional stickers featuring a rather unusual fish to let people know the album was coming. The scary fish monster on your promo stickers - what exactly is it and why did you chose it?
Max Newland (ESt, '13): It was just a weird still frame from the music video.
How would you define your musical style?
Grennan Milliken (EFB '12): Maybe indie. Some our first album was very much folk tinged, but at the end of the day, I just call it rock 'n' roll. Not to simplify us or our music in that way, but you know, I never really tried to define what kind of music we are because we certainly don't follow any particular type of genre when we're making music. So. We're rock 'n' roll, I suppose. We're The Vanderbuilts.
You had a pretty extensive performance schedule this year. How did you balance course work with concerts and practice?
Dave Riddell (ES, '13): It was usually not so hard to take only a few hours a week to get together and practice. When I really didn't have those few hours to spare due to a heavy workload, we all agreed that school took top priority.
The band won the Best New Artist Award at the SAMMY's this year. What was that experience like for you?
Milliken: Winning best new artist was a wonderful experience and an incredibly touching recognition from the community of Syracuse that has helped us grow and that we've come to love so well. It was a little tough to be far away during the award ceremony but it really just made me eager to get back and get to work. (After graduating in 2012, Milliken moved to Washington, D.C.)
Riddell: I was surprised because I don't think we've really been trying to break into the Syracuse music scene. I thought our audience mainly consisted of our friends and other students at SU/ESF. I didn't think anybody outside of that community had even heard of us.
Newland: The Sammy was a very great achievement for the band because it solidified the idea that we are a Syracuse, N.Y., band as opposed to just a college band. It was great to get the recognition from the city that we have called our home for the past three years and to have them accept us as the best new artist in their community.
Kogon: It was such a humbling and flattering experience. To be considered among the ranks of amazingly talented artists in the Syracuse area was a true honor. I feel that we now always will have a home in Syracuse whenever we return to play shows.
The video for I Wish I Was a Saber Toothed Tiger is reminiscent of the Claymation and stopmotion Peter Gabriel videos of the 1980s. What was your inspiration and how did you develop the video storyline? And how many other bands can boast a personal taxidermy collection?
Milliken: First, I don't think many bands, if any, can boast such a taxidermy collection. Sam gets all the credit for that. Visiting his house is incredible. You know we wanted to do something cartoonish, or animated at least. It just seemed perfect for the song. A wandering lonely creature mutating constantly but not able to reach his oh-so-desired form of a saber-toothed tiger.
Newland: The idea came when I had met Sessa Lund, (a motion and print designer based in New York and Sweden) and she had told me that she did music videos, and that it was unbelievable to her that as a band with two, at the time almost three, albums out we had never done a music video. She had offered to work with us on one, and I said "OK" without thinking much about it. After a few days I contacted her seriously about doing it, with an idea that I had in my head for the video, and this is what she made.
Now that you're all ESF alumni and not living in the same community, what's in store for The Vanderbuilts' future as a whole and for each band member?
Milliken: I had to approach this question about my own future in The Vanderbuilts a year ago. I graduated before all these other guys and that was very difficult. I drove to Syracuse from my hometown of Elmira for shows, for practice and for recording an album in Connecticut. Since then, I've worked at an internship and am in the midst of a contract job at National Geographic in Washington D.C. It's been a little hard to be away from the guys, especially during the formative period of graduation, but when I finish my contract in August it's New York-bound for me to play some music. It'll be good to be back on the same page.
Riddell: I will be serving with Americorps' National Civilian Community Corps for 10 months. Everyone has various commitments in the short term, but we plan to keep things going in whatever way our situations allow.
Newland: The Vanderbuilts will most likely continue to put out music in the immediate future with intentions of continuing well past that.
Kogon: We are all planning on playing together after school and moving down to New York City. I am the first one to have made the move and I am loving it but missing the others. Good thing we have some more shows booked in July in the Central New York area.
Your latest release "What We Forget" champions a simpler way of life and an emphasis on a return to nature. Is it safe to say ESF has had an influence your music?
Milliken: Of course it is. We all obviously felt powerfully about those social and environmental issues to begin with, which is why we chose ESF in the first place. Then, while studying there the school certainly nurtured those ideas and we've expressed them in our music.
Newland: In many ways ESF has made us more conscious of the world that is around us, and being immersed in a culture such as ESF it would be hard for there not to be some sort of environmental undertone to at least some things that we do.
Kogon: Totally. While this record is a little less post-apocalyptic than our first releases (Far From Here) there are elements and ideas that you cannot shed that we've learned while attending ESF, particularly taking classes such as The Global Environment and The History of The Environmental Movement has certainly taken their toll on my outlook on the state of our planet. It would be wrong to not include such ideas or feelings in our music. While we are never "in your face" about environmental issues in our music, it's certainly something we wear proudly on our sleeves.
Recent ESF News
News Archives
Communications & Marketing
SUNY-ESF
122 Bray Hall
1 Forestry Drive
Syracuse, NY 13210
315-470-6644