SHARE:
Lonesome George Preserved for Posterity with Assist from ESF Professor
Taxidermists prepare body of last known Pinta Island tortoise

7/2/2013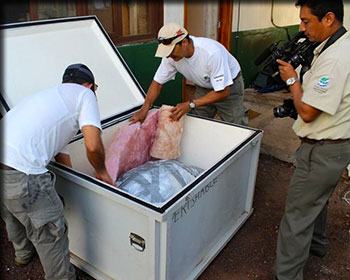 Lonesome George, the approximately 100-year-old Pinta Island tortoise (Chelonoidis abingdoni)-the last of his kind-who died in June 2012, will be preserved for posterity by an expert taxidermy and conservation team that includes Dr. James P. Gibbs, an ESF professor and director of the Roosevelt Wild Life Station.
The world-famous giant tortoise from Ecuador's Galápagos Islands, who continues to be an icon for conservation around the world, will be on display at the American Museum of Natural History in New York City for a limited time starting this winter. Afterwards, Lonesome George will be returned to Ecuador.
Lonesome George, weighing 200 pounds and measuring 5 feet long, was probably the most famous and most heavily photographed captive animal in the world. He died at the Charles Darwin Research Station Galapagos National Park's Tortoise Breeding Center on Santa Cruz Island in June 2012. Despite efforts to provide him with a mate during four decades in captivity, Lonesome George never successfully reproduced and remained the last known member of his species.
It was Gibbs, a professor of conservation biology at ESF, who accompanied the frozen body of Lonesome George to the museum March 11.
He made the trip from the Galapagos National Park headquarters in Puerto Ayora on Santa Cruz Island via the city of Guayaquil, Ecuador, to John F. Kennedy International Airport after working with Galapagos National Park colleagues to prepare the specimen for international transport. Gibbs has worked on conservation initiatives in Galapagos since 1981. He is currently working with the government of Ecuador's Science and Technology Directorate to provide management advice and scientific guidance to the Galapagos National Park.
"Moving a frozen, 200-pound tortoise from Galapagos to New York is a major logistical challenge and something of a headache. But I was really moved by the remarkable effort expended by so many people - park guards, agriculture inspectors, customs agents, colleagues and more - who took extra care in preparing and handling this sensitive, precious cargo," Gibbs said. "This tortoise means so much to so many. That Ecuadorian children and future travelers to Galapagos will have the chance to gaze upon Lonesome George and think about the meaning of species extinction makes this effort worthwhile."
Gibbs, who has made some 40 trips to the Galapagos, was on a team that searched for a female to mate with Lonesome George in an effort to prevent the Pinta tortoises from becoming extinct. This group has discovered hybrid tortoises of Pinta tortoise ancestry on a remote volcano in Galapagos (left there by whalers two centuries ago) that will be brought into captivity next year to attempt to reconstitute the Pinta tortoise lineage over the century ahead. His work in the Galapagos is part of a joint effort of the Galapagos National Park Directorate, the American Museum of Natural History, ESF, Yale University, and Galapagos Conservancy, which provided the funding to transport Lonesome George to and from New York as well as for the taxidermy work.
These organizations are working together to prepare Lonesome George's body and spread awareness of the tragedy of species extinction and the importance of biodiversity conservation.
"We are honored to receive this incredibly important specimen and ultimately, put it on display for the public," said Michael J. Novacek, senior vice president and provost of science at the American Museum of Natural History. "Our team of experts, using preservation and taxidermy techniques that have earned this institution recognition throughout the world, will ensure the legacy of Lonesome George lives on and is appreciated by future generations."
"I'm thrilled to have the opportunity to work with the Galápagos National Park Service, SUNY-ESF, and Galápagos Conservancy team to preserve such an important icon for the global conservation movement," said Eleanor Sterling, director of the Center for Biodiversity and Conservation at the American Museum of Natural History. "Together we will bring Lonesome George, both in his physical presence and message, before the international public in ways we hope have a lasting impact."
The museum, at 79th St. and Central Park West, is home to the Theodore Roosevelt Memorial, New York state's official memorial to its 33rd governor and the nation's 26th president, and a tribute to Roosevelt's enduring legacy of conservation. The ESF wildlife station that bears his name was established by an act of the New York State Legislature in 1919 to memorialize Roosevelt as a wildlife conservationist. The college is also home to the Roosevelt Wildlife Collection, a vertebrate collection containing over 10,000 specimens of birds, mammals, freshwater and marine fishes, reptiles and amphibians. The collection is housed in ESF's Illick Hall, with selected outstanding specimens on display in the main concourse of the college's new Gateway Center.
This story is based on a news release from the American Museum of Natural History.
Recent ESF News
News Archives
Communications & Marketing
SUNY-ESF
122 Bray Hall
1 Forestry Drive
Syracuse, NY 13210
315-470-6644