SHARE:
Teachers Ship Out on EPA Lake Guardian
ESF participates in Great Lakes education program

7/15/2013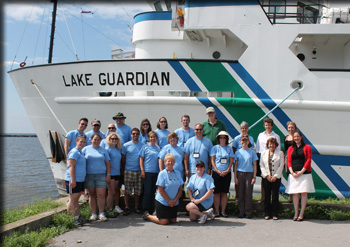 Fifteen elementary-to-high-school teachers from five states played the role of students last week, cruising aboard the 180-foot Lake Guardian, a U.S. Environmental Protection Agency (EPA) research vessel, on Lake Ontario last week as part of a teacher-education project.
As part of a New York Sea Grant (NYSG) teach-the-teachers project, the educators from Illinois, Minnesota, New York, Ohio and Pennsylvania worked alongside Dr. Gregory Boyer, chair of the ESF Department of
Chemistry and director of the Great Lakes Research Consortium; Dr. John Farrell, director of ESF's Thousand Islands Biological Station; EPA scientists; and Dr. Michael Twiss of Clarkson University.
NYSG provided the teachers with a stipend to develop classroom curricula and stewardship projects with guidance from NYSG Coastal Education Specialist Helen Domske.
The seven-day Shipboard and Shoreline Science workshop has funding through the Great Lakes Restoration Initiative.
The Lake Guardian research vessel rotates through the Great Lakes on a five-year cycle.
During the Lake Ontario tour, the teachers assisted with collecting water and bottom sediment samples at numerous nearshore and offshore field stations including sites near Toronto, Rochester, Oswego, Clayton and the Thousand Islands Biological Station.
The Lake Guardian is the only self-contained non-polluting vessel on the Great Lakes.
Recent ESF News
News Archives
Communications & Marketing
SUNY-ESF
122 Bray Hall
1 Forestry Drive
Syracuse, NY 13210
315-470-6644