SHARE:
ESF Ecologist Joins Governor for Adirondack Raft Race
Stacy McNulty paddles through tourism event

7/29/2013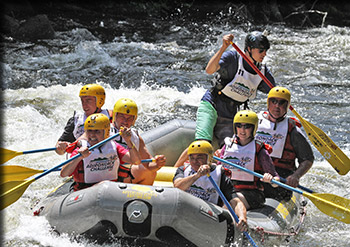 ESF ecologist Stacy McNulty, associate director of the college's Adirondack Ecological Center (AEC) in Newcomb, was among the elected officials and Adirondack leaders who participated last week in the Governor's Invitational Whitewater Race.
The race on the Indian River was part of Gov. Andrew Cuomo's "2013 Adirondack Challenge" aimed at focusing international attention on the Adirondacks and building opportunities for tourism.
New York Mayor Michael Bloomberg also participated.
The race was held a day after the 15-mile Adirondack Challenge Flatwater Canoe Race on Indian Lake and a daylong festival in the town of Indian Lake.
McNulty was invited to participate by William Farber, chair of the Hamilton County Board of Supervisors and a leader of the Adirondack Partnership.
The AEC has a history of assisting the state Department of Environmental Conservation with natural resource inventory and planning using geographic information systems (GIS) in New York's Forest Preserve, which is made up of over 3 million acres of state land in the Adirondack Park. The AEC leads a multi-institution consortium called Adirondack Park Regional GIS.
Over the past year McNulty served on a team that was asked to develop recreation-based tourism strategies for the North Country Regional Economic Development Council. AEC GIS specialist Steve Signell was instrumental in conceiving an online database to compile information from different web sites into dynamic maps.
Thousands of acres in and around Newcomb are now opening to the public for the first time. Local representatives from the towns containing lands formerly owned by the Finch, Pruyn paper company, along with several agency partners, met at the AEC to discuss recreation opportunities and linking communities and public lands. The conversation was supported by GIS maps produced by ESF doctoral student Abbie Larkin, who works with Dr. Colin Beier of the AEC and McNulty.
"ESF is viewed as a key provider of information and technical expertise in the region," McNulty said. "We are pleased to assist in this important process as new lands become accessible to the public."
Recent ESF News
News Archives
Communications & Marketing
SUNY-ESF
122 Bray Hall
1 Forestry Drive
Syracuse, NY 13210
315-470-6644