SHARE:
National Grid Supports Energy Work as Cyclists Cheer ESF Chestnut Research
$250,000 incentive offsets cost of energy-efficiency projects

7/30/2013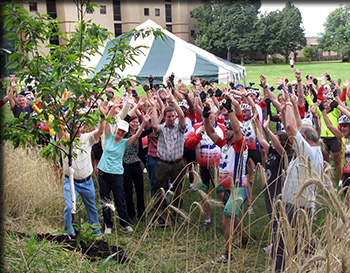 The SUNY College of Environmental Science and Forestry (ESF) received a $250,000 incentive from National Grid July 30 to help offset the cost of energy-efficiency projects totaling more than $670,000 in both lighting upgrades and large variable-frequency drives initiated by the college in 2012.
The announcement of the incentive coincided with a visit to campus by cyclists from the STIHL Tour des Trees event, in which nearly 100 riders are participating. The riders from around the world are traveling a 585-mile route around Lake Ontario to raise awareness of the need for tree research and funds for the Tree Research and Education (TREE) Fund.
The cyclists gathered on campus to hear Dr. William Powell, a plant biotechnology expert at ESF, explain the two decades of research that has been focused on restoring the American chestnut tree. The species, once dominant in the nation's eastern forests, was devastated by an invasive fungus at the beginning of the 20th century.
The bike riders, described as "kindred spirits by ESF President Cornelius B. Murphy, Jr., because of their interest in trees and the environment, gathered around a recently planted transgenic American chestnut outside ESF's Gateway Center to wish the tree good health before continuing on this leg of their journey.
National Grid supports arboricultural research as a sponsor of the STIHL Tour des Trees and the TREE Fund's Utility Arborist Research Fund.
"The incentive from National Grid amounts to more than one-third of the cost to upgrade campus systems, such as lighting and ventilation, so they are more energy efficient," Murphy said. "Together, these projects are expected to reduce ESF's energy consumption by more than 1.4 million kWh annually. We are grateful for National Grid's support for our efforts to make our campus more sustainable. Our students have told us we have to be green to teach green, and this helps us move strongly in that direction."
Six projects were implemented, including installation of new energy-efficient lighting and large variable-frequency drives installed on fume hoods in Jahn Laboratory that provide additional energy cost savings through reductions in steam consumption.
According to National Grid, these measures are expected to save a total of approximately 1,435,824 kilowatt hours of electricity, which translates to an estimated $117,000 in total annual savings. This is equivalent to removing 211 cars from the road or planting 25,976 trees according to the Environmental Protection Agency's Greenhouse Gas Equivalencies Calculator.
"National Grid's energy-efficiency programs are designed to help customers manage their energy consumption and save money," said Melanie Littlejohn, National Grid regional executive of Central New York. "The energy-efficiency improvements at SUNY College of Environmental Science and Forestry provide long-term savings. National Grid is committed to initiatives such as those undertaken by the university to promote sustainability and energy efficiency, while ultimately reducing environmental impact."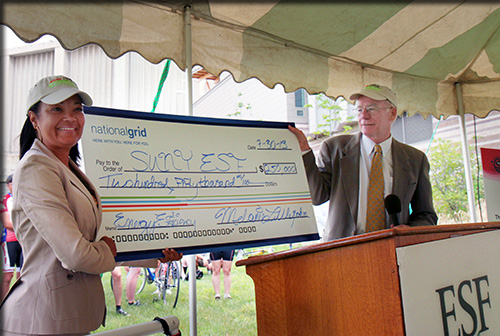 National Grid's Custom Incentive program is designed to promote and offset the cost for installation of energy-efficient equipment and to reduce energy consumption and improve operational efficiency. The program is available for complex or unique energy efficiency equipment or projects and is specially designed to meet the needs of customers and improve overall system efficiency.
National Grid's Energy Initiative Program is made possible through the New York State Public Service Commission's an initiative to reduce energy consumption and enhance energy efficiency programs. The target goal is to reduce energy usage in New York State by 15 percent by the year 2015.
As part of National Grid's commitment to sustainability and community engagement, company arborist Brian Skinner, was honored by the TREE Fund the same day for his work and dedication to the STIHL Tour des Trees event and for the time he spent scouting the routes for the ride, recruiting local volunteers and hosts for rest stops during the ride, and ensuring that trees are planted as a legacy of the STIHL Tour des Trees.
Recent ESF News
News Archives
Communications & Marketing
SUNY-ESF
122 Bray Hall
1 Forestry Drive
Syracuse, NY 13210
315-470-6644