SHARE:
Strong Freshman Class Arrives at ESF
290 first-year students set for orientation

8/21/2013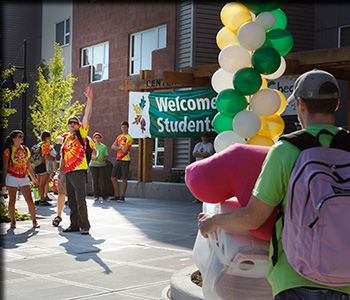 ESF's new students began arriving on campus this morning (Aug. 21) to begin several days of orientation before classes begin Aug. 26.
Undergraduate enrollment is expected to match last year's record level or increase this fall, with the College enrolling more than 540 new students for the third consecutive year.
This year's entering freshman class of approximately 290 students will be one of the larger classes in recent years, and more than 200 entering transfer students are also expected to enroll at the College's Syracuse campus. An additional 55 students will enter ESF's Ranger School campus in Wanakena, N.Y., to begin classes this week.
The "typical" freshman at ESF will have earned a high school average of 91 percent, a class rank in the top quarter of his or her graduating class and SAT college entrance examination scores in the top 25 percent of all students tested nationally.
Twenty-two percent of the entering freshmen come from outside New York state, maintaining ESF's position as one of the most geographically diverse campuses in the SUNY system.
Students from underrepresented racial and ethnic populations will make up 14 percent of this year's class, a slightly higher percentage than the College has enrolled in recent years.
The entering first-year class is also well balanced in terms of gender, with 51 percent male students and 49 percent female students. Academic programs in environmental resources engineering, sustainable energy management, construction management and landscape architecture showed strong gains in enrollment this fall.
ESF offered an Early Decision application plan for this fall aimed at high school applicants who identified ESF as their first choice institution by December of their senior year. More than one quarter of the entering first-year students were offered admission through the Early Decision option.
ESF also continues to be a very attractive option for transfer students. The College offered admission to only 36 percent of its transfer applicants, and more than 80 percent of the transfer applicants who were accepted chose to enroll. Entering transfer students earned strong grades at their previous colleges, averaging 3.20 (B+) on a 4.00 scale.
Recent ESF News
News Archives
Communications & Marketing
SUNY-ESF
122 Bray Hall
1 Forestry Drive
Syracuse, NY 13210
315-470-6644