SHARE:
ESF Mighty Oaks Set for Fall Season
Cross-country, soccer and golf teams begin competition

8/28/2013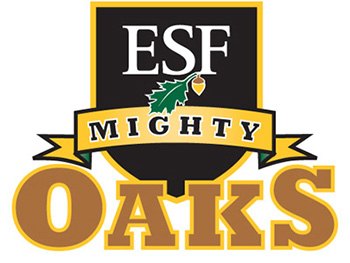 ESF's Mighty Oaks student-athletes return to action over the next two weeks, with the cross-country teams hosting the national championship, the soccer teams setting their sights on their national tournament and the golfers rebuilding with transfer students after losing some strong starters to graduation.
The men's and women's cross-country and soccer teams both start their intercollegiate seasons Aug. 31. The runners will compete at the seventh annual SUNY Institute of Technology Invitational. The soccer teams will play in a tournament at NHTI, Concord's Community College, in New Hampshire.
After winning the national U.S. Collegiate Athletic Association championship two years in a row, the men's cross-country team will welcome four talented first-year runners, said Coach John View. Newcomers Reed Scott (Sullivan West), Mike Persson (New Jersey), Lawrence Vedilago (Massapequa) and Nick Garty (Chittenango), and transfer students Tom Arcuri (Mohawk Valley) and Matt Serrao (RIT) are expected to provide additional depth. The team they join will include all but one of last year's runners. Returning are Timmy Callahan, Brian Busby, Jon Cleveland, Kai Crannell, Jeremy Driscoll, Malcolm Moncheur, Peter LeDuc, Stephen Slonosky, Jacob Wolfgong and Taylor Yerrick.
For the women's team, which finished second and third in the last two national championships, freshmen Allison Cronk (Groton) and Lauren Lynn (Glen Gardiner, N.J.) and transfer student Kaitlin Breda are expected to be strong contributors. They will join returning runners Cambria Ziemer, Danielle Zgardzinski, Emily Martin, Jenny Frank, Kristen Campbell, Radka Yang and Liz Bourguet.
The 2013 USCAA National Championship race will be held Nov. 8 in Syracuse. The race will be at Drumlins Country Club, just two miles from the campus.
The men's soccer team is aiming for a long USCAA championship run in November.
"Making it to the national semifinals last year has helped tremendously with recruiting and it has shown in the preseason already," said Coach Daniel Ramin.
"The level of competition has raised the bar for the program which is needed for our tough schedule this year. Everyone is working hard to make sure we are spending Halloween in West Virginia for another shot at the championship," said senior Captain Kyle Siegel.
Junior Ashley Miller, captain of the women's team, said the team looked promising during preseason training.
"The combination of a strong returning class and talented new players is exactly what we needed to make this a winning season, and that's what we have," she said.
"The team's goal is to start the season out strong and make it to nationals. With the near qualification last year it is definitely on everyone's mind," Ramin said. "The work rate has been great this preseason and we expect success."
The golf team will begin its second season of fall-only completion Sept. 8 with a match against Syracuse University Sept. 8.
Coach John Turbeville said the team's first goal is proving various opportunities for both experienced players and newcomers to compete, which means offering more local tournaments in which more than one team can compete. Turbeville also aims to develop a schedule that will contribute to the team's ability to perform at a high level at the national championships.
"We tend to see that the most immediate contributors to the team often come from the transfer recruits," Turbeville said. "I except this to hold true again this year as we have two very strong transfer students coming out for the team this year. It seems that the first-year students have a lot to transition. The combination of being new to college and balancing much more demanding golf courses and tournament formats requires an extra year or so of development."
Several strong players graduated in the spring but Turbeville said four outstanding players will return, including Captain Steven Johansson.
Recent ESF News
News Archives
Communications & Marketing
SUNY-ESF
122 Bray Hall
1 Forestry Drive
Syracuse, NY 13210
315-470-6644