SHARE:
'Sustaining the World's Wetlands'
Professor Richard Smardon's new book for practitioners and scholars

7/13/2009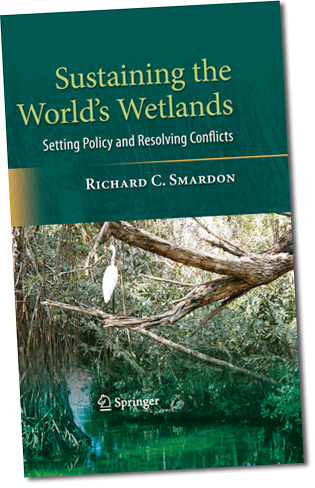 Just released, Richard Smardon's new book, Sustaining the World's Wetlands: Setting Policy and Resolving Conflicts (New York: Springer, 2009) examines international wetlands policy in Europe, Africa, Asia, and North America; discusses differences between wetlands management issues in developed and developing countries; and suggests strategies for future wetlands management. The 325 pp. volume is written as both a textbook and professional reference book. Key themes addressed in case studies from around the world include tradeoffs between sustainable use of wetlands for food, fuel, and fiber versus the protection of ecosystem diversity and stability; and the roles of international NGOs, national and regional governments, and local community-based organizations in wetland resource management. Sustaining the World's Wetlands is a unique and valuable tool both for both academics and practitioners. Smardon is Professor of Environmental Studies at the SUNY College of Environmental Science and Forestry (SUNY-ESF), and a participating faculty member in the college's Graduate Program in Environmental Science. He was Co-Director of the Great Lakes Research Consortium from 1986-2007, and is currently Acting Chair of the New York Great Lakes Basin Advisory Council.
Recent ESF News
News Archives
Communications & Marketing
SUNY-ESF
122 Bray Hall
1 Forestry Drive
Syracuse, NY 13210
315-470-6644