SHARE:
SALTS Lab Certified to Test for Airborne Fibers
Training makes students valuable in workplace

9/19/2013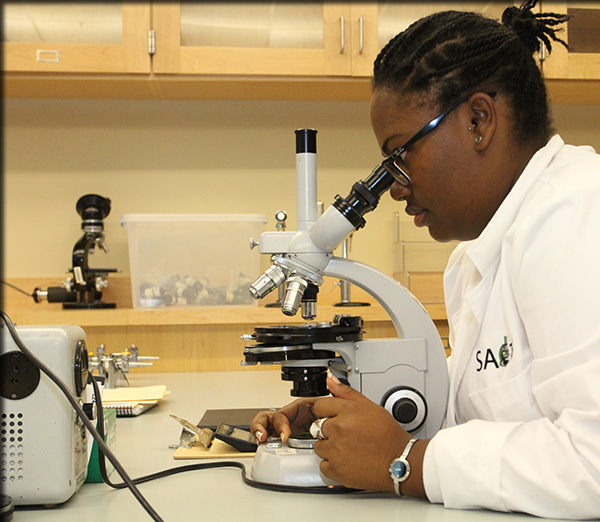 As universities nationwide are under pressure to prove their economic viability and value to the community and prospective students, a team at the SUNY College of Environmental Science and Forestry (ESF) in the Salt City is accomplishing just that with the new testing lab called SALTS.
Syracuse Asbestos Laboratory Testing Service, founded by microscopy experts on the ESF campus, has earned New York State Department of Health certification as an official testing lab for airborne fibers as of November 2012. SALTS staffers examine filtered samples from air monitors at construction sites, schools or other structures for the kind of microscopic fibers that could indicate the presence of asbestos or other contaminants that would require special handling or remediation at the site.
The lab has been busy in its first months of full operation and is processing multiple sets of samples weekly with eight to 12 samples per set, said Robert P. Smith B.S. '70, M.S. '77, lead technical director of SALTS and assistant director of the N.C. Brown Center for Ultrastructure Studies at ESF. The cost for the service is competitive with other labs and varies depending on the desired six- or 24-hour turnaround time, Smith said. Turnaround time can be essential particularly if concern about suspect material has shut down a public building, stopped a renovation or forced residents from apartments, he noted.
In the start-up phase, the first six months of 2013, the lab generated nearly $10,000 in revenue for the N.C. Brown Center with another $2,000 outstanding, said Dr. Susan Anagnost, SALTS technical director and director of the N.C. Brown Center. Fees charged for the lab service help offset maintenance expenses for the costly equipment used in the center, said Anagnost, who also is chair of the Department of Sustainable Construction Management and Engineering at SUNY-ESF.
The process of getting the lab certified and into full operation has taken almost two years. Anagnost and Smith earned their certifications in asbestos analysis in 2011 at the McCrone Institute in Chicago. Now Smith teaches students a course in fiber analysis that leads to their state certification.
It's not often that a student can take one course and with that class alone become a valuable commodity in the employment market but that's what happens at SALTS for those microscopy students who complete the certification process. Of the four students he has trained, four are employed by SALTS now and the lab has a continuing need for more, he said.
Tiffany Brookins-Little is an undergraduate studying biotechnology and works as client services associate and analyst for the lab. She plans to use her microscopy skills in medical research. In her work at the lab, Brookins-Little notes, she gains problem-solving and leadership skills along with specific knowledge about the six different types of asbestos. The other employees are Kaitlyn Smith, an ESF biology graduate; Jeremy Sullivan, a master of science candidate in chemistry; and Taylor Della Rocco, a sophomore majoring in environmental science.
SALTS staffers do not gather fibers in the field, but rather examine samples supplied by contractors. After slides are prepared from the samples, SALTS technicians search by light microscopy for the presence of fibers as small as 5 microns long with the distinctive shape and in the numbers that U.S. Occupational Safety and Health Administration or National Institute for Occupational Safety and Health rules say require more extensive testing and perhaps remediation.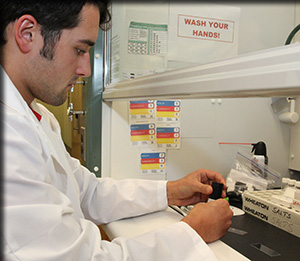 Students in Smith's class gain essential expertise in the operation of various microscopes that make them highly valuable in research and in the commercial market, he said. Microscopy involves not only knowing how to operate each type of microscope, but also knowing which type suits a particular kind of research, how samples must be prepared for their reliable interpretation and proper record keeping and maintenance. The complexity of the field of microscopy and the need for skills in it for research, scholarship and industry has led ESF to create a new minor in microscopy that includes the use of both light and electron microscopes, Anagnost said.
The lab's work is not limited to asbestos although it created a fine acronym, she said. The microscope reveals details about many different materials. While the problem of asbestos contamination could be finite, it's not likely to go away soon nor is the prospect of fiber contamination. The lab was created in response to a demand from contractors experiencing considerable delays in getting results from labs backlogged with requests for testing, Smith said. Dr. Beth Arthur, a recent staff research scientist was instrumental in recognizing how the lab could meet the needs of industry and she gathered much of the documentation needed for certification of the lab, noted Anagnost.
Demand has been sufficient for SALTS to begin to seek backing for adding a new transmission electron microscope (TEM), which would be used in research and teaching as well as asbestos determination, said Anagnost. Certain types of samples require TEM for asbestos identification, and a locally operated machine such as this would shorten the turnaround time for local contractors.
The 30-year-old transmission electron microscope at ESF in its own pristine room is booked for use. A log shows recent users from Syracuse University, ESF and industry in Central New York have had need for the instrument even as much more modern equipment has come on the market. While scanning electron microscopes scan the surface of an object, transmission electron microscopes transmit an electron beam through a thin section of material allowing observations on a cellular level. There's much more to be revealed by the latest technology, however.
"The new ones easily see and identify atoms," Smith said.
Anyone wishing to contact the SALTS lab can email salts@esf.edu.
- By Dee Klees
Recent ESF News
News Archives
Communications & Marketing
SUNY-ESF
122 Bray Hall
1 Forestry Drive
Syracuse, NY 13210
315-470-6644