SHARE:
First-Year Experience Wades into Water Issues
Program for new students eases transition to college life

9/20/2013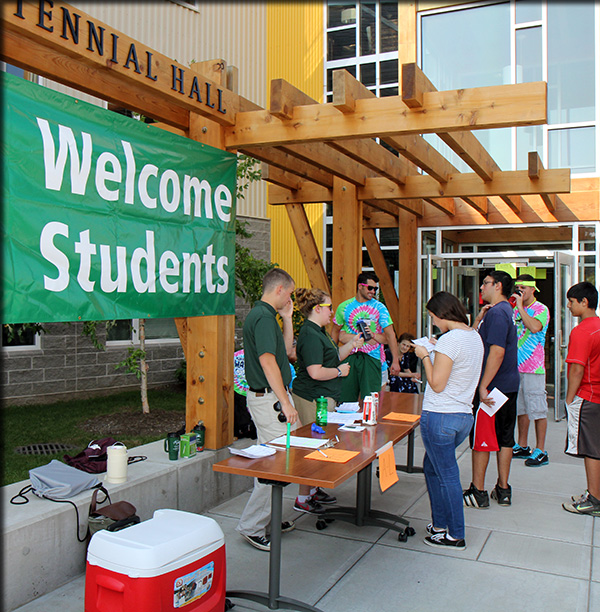 "Water's worth it," ESF President Cornelius B. Murphy, Jr., said in the first installment of ESF's Water Lecture Series Sept. 4 in the Gateway Center and in his recent Huffington Post blog. Water is also worth it to many on the SUNY College of Environmental Science and Forestry (ESF) campus and especially the First-Year Learning Team, a group of ESF staff that interacts with first-year students on a regular basis. Led by Scott Blair, Academic Support Services coordinator, the team chose water as the theme for this year's First-Year Experience.
The First-Year Experience is a series of programs, workshops and opportunities designed to assist in the new students' transition to ESF by engaging them socially and academically, according to Laura Crandall, director of Student Involvement and Leadership.
"The First-Year Learning Team has regular meetings to discuss student progress and ways to help ease the transition," said Crandall, who feels ESF's small campus size allows for personal interaction and the ability for the faculty to really help students.
"What other campus could do this?" she asked, noting that students and their professors are often on a first-name basis at ESF. In fact, Crandall said, team members write letters to students to remind them of ESF's resources and community midway through the semester if professors from the First-Year Team have seem them struggling with academics or other issues.
"You're not just a number," said Crandall, referring to all students on the ESF campus and specifically first-year students.
Any theme chosen for the First-Year Experience, as opposed to a required summer reading book, is broad enough that it should be easy to integrate related issues into the first-year coursework and into programs that can reach a wide range of campus community members, said Blair. So why water for this year's theme?
"It works," said Crandall. "There are so many issues that are water-based that tie all of our majors."
The theme is incorporated as much as possible throughout the first year, from orientation to the last lecture in the series, said Crandall. The slogan for the new student orientation this year, selected by head Orientation Leaders Maureen Bishop and James Patrick Tucci, was "Make Waves." Crandall even set up fruit-infused water for family members to highlight the theme. The Centennial Hall resident assistants used "Finding Nemo" as the inspiration for the door decorations that displayed each resident's name. "Centennial Hall could have a program of water rights or water conservation, to highlight the college's position on sustainability," Blair explained.
Although conceived as part of the First-Year Program for the newest ESF students, the theme of water and the lecture series are intended to engage the entire ESF campus. The purpose of the lecture series is to spread the values of ESF in an accessible way, according to Blair. He and his team hope the series will have an extended reach to the college community and perhaps beyond. For example, he said, an office worker might see the importance of using a reusable cup at the water cooler or new students might become interested in a water-related issue such as the Two Row Wampum Renewal Campaign that several members of the ESF community have participated in to highlight a 1613 agreement between the Haudenosaunee and the Dutch settlers. Different activities, such as tie-dying and water testing, will be used throughout the year to discuss water usage, but Crandall believes having someone from the campus community speak to first-year students each month outside of their classrooms will be a different, beneficial experience.
Murphy's lecture was meant to introduce a wide array of issues that water is involved with, according to Blair. Now that the background of the resource and its importance have been established, the campus community can begin to understand specifics, such as how water plays a role in different societies or how sustainable practices and diversity relate to water, said Blair. "My hope is that students will come away with greater appreciation of the complexities of the topic [of water] but also how this unites all our work on campus," Blair said.
Like many, Blair was honored to have Murphy speak for the first lecture in the series. Blair noted that since Murphy will step down from the presidency this year it was a privilege, especially, for the first-year students. "For him to say he would do it and to have the college president speak shows his support of the First-Year Experience," said Crandall. "He left everyone with a really good message."
Lectures for the Water Lecture Series will be held roughly the first Wednesday of every month during college hour and are open to the entire campus community. Dr. John Hassett, a professor in the Department of Chemistry, will present the next lecture, "You Gonna Drink That? Wading Into Drinking Water Quality," 12:45 to 1:40 p.m. Oct. 2 in Marshall Auditorium.
- By Alison Gibson ES '15
Recent ESF News
News Archives
Communications & Marketing
SUNY ESF
122 Bray Hall
1 Forestry Drive
Syracuse, NY 13210
Communications@esf.edu